Wreath Maker Crafts Tribute to Military Veterans Worthy of a General
Megan Turak, Military Family Network
2010-11-11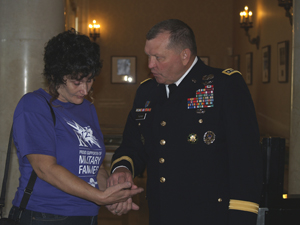 PITTSBURGH, PA – November 8, 2010 When Pittsburgh-based Military Family Network contacted Lavonna Streight of Moundsville, WV to custom design a live wreath for Arlington National Cemetery's Tomb of the Unknowns, she had no way of knowing that her creation would be presented in the Nation's most revered wreath laying ceremony for our country's Fallen by the distinguished General James D. Thurman, Commanding General, U.S. Army Forces Command and his wife, Dee; U.S. Army Forces Command Sergeant Major Ronald T. Riling and his wife, Melinda; Military Family Network President and U.S. Marine Corps veteran, Luis V. Trevino, Jr.; and, Major Aaron Hall currently in the U.S. Army Reserves and K12, Inc. Vice President. U.S. Army Forces Command is the Army's largest organization responsible for the oversight, manning, training, and equipping of 237,000 Active Component soldiers, and the training and readiness oversight of 560,000 soldiers of the Army National Guard and the U.S. Army Reserve. Nor did she realize that she and her husband Ron, her daughter, April and April's friend Ian Brannen, would travel to Washington, D.C., to join with more than one hundred Army Family Readiness Group Leaders, Family Readiness Support Assistants, Program Managers, staff and volunteers to witness this solemn and sacred occasion.
Lavonna Streight's talent and craftsmanship for wreath making came to the attention of Military Family Network's Executive Vice President, Megan Turak, through her brother, Jonathan Turak, a Moundsville attorney with the law firm, Gold, Khourey & Turak, that practices in the Tri-state area. Although Lavonna and her husband are upholsterers by trade, each November and December, Lavonna makes wreaths for the holidays. Her wreaths are specially designed and most materials are gathered from the Streight's own property. Lavonna is an extremely gifted gardener with an artist's eye for original, thoughtful works; her wreaths are a favorite among those in the Moundsville area.
So, when Military Family Network called to discuss the Washington, D.C. walking tour they were coordinating for more than 500 military individuals as a team building exercise in partnership with the Association of the US Army Family Programs and K12, Inc., the largest provider of online education in America for grades K through 12. Lavonna was a little more than surprised. She was both honored and humbled that her wreath would commemorate those men and women of the Armed Forces who made the ultimate sacrifice while also paying respect to those still in uniform and our veterans. It was only fitting that she and her family personally attend this momentous occasion.
While in Washington, D.C., Lavonna took great care tending to her wreath to make sure that the flowers were fresh and that the greenery was hydrated so that the wreath's appearance fit its purpose. When Megan appeared to gather the wreath, she was awestruck. It was beautiful. Just then, Lavonna, wearing the hats of both artist and critic, said, "Gosh am I glad to hear you say that. April kept saying, "Mom! What if they think it looks homemade?""
What she didn't know is that her wreath, made from the heart and soul of America's community, was precisely what Military Family Network wanted. The Streights don't have a loved one serving; but they appreciate and respect those who do and understand what that service means in their lives. Military Family Network seeks to help the military community connect with Americans and Americans connect with their military neighbors. "It's really just about taking care of each other," said Trevino. "And that's what Lavonna's wreath symbolizes for us."
When the wreath was delivered to Arlington National Cemetery, Military Family Network had a chance to meet soldiers of the Old Guard, those loyal sentinels entrusted with guarding the Tomb of the Unknowns. They also met Mr. Tom Sherlock, Arlington Army historian. When Tom recounted the history and significance of the Tomb of the Unknowns, a profound silence swept through the group.
However, it was while waiting for the wreath laying ceremony to begin that Lavonna and her family received their biggest surprise: General Thurman honored Lavonna and her family with an Award of Excellence – his personal General's coin - bestowed to the recipient as a token of high regard and appreciation. Lavonna was almost speechless but managed to say, sheepishly, "I feel terrible. I don't have my glasses. I can't read it, but I'm sure it's beautiful." Then, General Thurman closed in warmly towards Lavonna and read the inscription and explained the symbols engraved on his coin.
Lavonna also had a surprise for the wreath layers. With the remaining flowers and foliage, Lavonna constructed several corsages that she gifted to Mrs. Thurman and Mrs. Riling. The women immediately adorned themselves with the beautiful corsages – an act that flattered and humbled Lavonna because of the formality of the ceremony.
Later, she had more floral surprises for the group as she presented Family Readiness Group Leaders who were visiting the gravesites of fallen friends and loved ones with bouquets of purple flowers.
Then, right before the ceremony, when the wreath, whose appearance up until this time, had remained a secret, was finally presented, Mrs. Thurman whispered, "Beautiful wreath," and the General said, "That's a great wreath."