13th Annual Randy Oler Memorial Operation Toy Drop: 'Elves' continue to make a difference in Operation Toy Drop
Sgt. Felix Fimbres and Staff Sgt. Sharilyn Wells, U.S. Army Civil Affairs and Psychological Operations Command (Airborne)
2010-11-15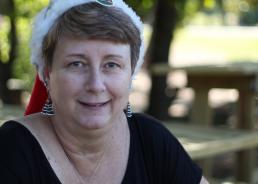 FORT BRAGG, N.C. - 11.15.2010 Becki Caldwell never believed that one day she'd be considered the head elf of the largest combined airborne operations held by the Army Reserve's U.S. Army Civil Affairs and Psychological Operations Command (Airborne). Since the operation's beginning, 12 years ago, this almost six-foot tall elf has been in charge of collecting and distributing toys donated during the Randy Oler Memorial Operation Toy Drop.
"I don't think there has ever been a job description for an elf, but I'll have to say what we mainly do is keep the lottery running smoothly. Because even though it doesn't start until 8 a.m., we have soldiers lining up at the crack of dawn with their toys and we [the elves] make sure they have all their paperwork filled out correctly, that their unit knows where they are, that they have an appropriate toy to donate, and hand out lottery tickets to them," explained Caldwell.
Operation Toy Drop combines the efforts of Army, Air Force and civilian service organizations to give the military community the opportunity to help families in need over the holiday season. Since its first year, the operation has expanded to include aircraft support from Pope Air Force Base's 43rd Airlift Wing, and welcomed the participation of Soldiers from Fort Bragg's XVIII Airborne Corps, 82nd Airborne Division and Special Operations Command.
A lottery is held the day before the operation that enables paratroopers to earn the opportunity to get foreign jump wings from allied soldiers around the world. With only so many parachutes that the event can pull, paratroopers donate a toy and are given a raffle ticket in hopes of being the few called to jump.
"We [Oler and Caldwell] decided to call my job head elf because I'd jokingly say he [Oler] had from the tarmac to the plane and I had the tarmac to the bleachers," Becki explained. "[The position] ended up being listed on my non-commissioned evaluation report as additional duties. The first time it went up to the Chief of Staff to be signed off, he called back [to headquarters] confused. All that needed to be said was 'Sir, toy drop,' and he replied 'Oh right,' and it stuck."
"So, from about 1999 until I finished my Army career, I have been head elf, and I'm proud of it," said Caldwell. "I was in Afghanistan in 2003 and a plane from Corps arrived around 2 a.m. All of a sudden I hear, 'Hey! It's the head elf!' I turned around and looked at the guy and he goes 'Yeah, you got me on the jump; you got me wings; you're the elf.' All I am thinking is were else could you be in battle dress uniform or desert camouflage uniform and still be identified as an elf."
"Part of me was tinkled pink that somebody remembered me, and the other part was like 'please let me die now,'" joked Caldwell.
Caldwell may joke about being called the head elf, but she takes her job serious when it comes to donating and making military families and children smile.
"We [the elves] collect the toys and sort them according to age," said Caldwell. "Which isn't easy because you have to think that this one toy may be the only toy that ends up under the tree for a child, so it has to be good."
"I tell all the soldiers that I can go from nice elf to ugly elf real quick if they don't bring me a good toy. I don't like being an ugly elf because I love Christmas, and the Christmas spirit is me. But what I jokingly say is if you bring me a Matchbox toy — I don't care if it's a Dale Earnhardt collectable, it's a Matchbox car, you need to go get me something else," smiled Caldwell. "Yes, I'll take your Dale Earnhardt collectable and I'll tape it to what you bring to me the next day, but you need to bring something else."
"Because think about it, if it's your child and the only thing they have underneath the tree is this little, bitty box, would it be what they wanted for Christmas?" asked Caldwell. "And most soldiers now understand that. We don't put a price on what your supposed to bring, but be reasonable and have it be something you'd like to get, and so far it's worked."
Caldwell explained that very few toys are inappropriate, but she is overwhelmed by some of the toys that are donated.
"We've had privates bring bikes," explained Caldwell. "You'll find more specialists and lower enlisted bringing bikes, and then you know, a colonel or two. We love it, because you have to figure that this kid spent, 40 to 50 bucks that he didn't have to. He did it because that's what he liked or what he wanted when he was little."
Co-worker and close friend Sgt. 1st Class Randy Oler, a former Special Forces and ranger soldier, founded the operation with the help and support of friends around Fort Bragg and other military installations. Oler had the idea of incorporating airborne operations, foreign military jumpmasters and local charities and his friends were with him every step of the way.
"When Randy asked you to do anything you'd be honored because, one, you weren't sure if it was legal, two, you're not sure if you were going to get away with it, and three, it was going to be fun," joked Caldwell, who was then a staff sergeant for USACAPOC(A). "So we figured, okay, the air operation is legal and we figured with enough buds around here we could get it done, and it sounded fun. It was, but we didn't think we'd ever see another one."
The first Operation Toy Drop, with the help of Marine pilots, was very small and collected a small amount of toys, but in the years to follow the operation continued to grow. Last year, the event drew more than 2,000 paratroopers, 2,900 toys, and 24 allied jumpmasters. The operation was named in honor of Oler in 2003 and was turned into a memorial after his sudden death from a heart attack in April 2004.
"After Randy passed away, we figured that because we kind of lost the spirit, we wouldn't do it anymore," admitted Caldwell. "We thought there was no reason to do this. The fun was gone."
But by August Oler's friends looked at each other and decided that Oler would have wanted them to continue on to help the children around the community.
"He would have been kicking us in the butt if we had decided not to do it because he wasn't here. We would have wasted all the years he put into it," said Caldwell. "So, we revitalized ourselves and got started."
Caldwell and friends struggled to put together that year's Operation Toy Drop because Oler had done everything from memory. They scrambled to find countries to participate, aircrafts, and everything that incorporated the spirit of the operation.
"That [year] was a hard one to do," said Caldwell. "We'd all look around Sicily [drop zone] to find him or hear him, but he wasn't there."
Caldwell first met Oler when he was assigned as the training non-commissioned officer at USACAPOC(A) in 1997. They became friends with the help of her daughter, Jacquelyn Caldwell, and his son. At all the late nights and training that the unit had, each would bring their child and as the children became best friends, so did Caldwell and Oler.
"He helped me coach basketball for the kids and I helped him coach soccer," said Caldwell. "We started off as military friends and blossomed in to becoming family friends."
"You all have got to understand that Randy was six foot three inches or so and on a good skinny day maybe weighed about 250 pounds," explained Caldwell. "He was a Tennessee country boy that loved his Tennessee college football team, who was SF and a ranger — a man's man, as we all jokingly said."
"In the first years of the event, there was a crew of about four of us that delivered the toys all the way up to Christmas Eve. We thought we could sneak into one of the orphanages, hand the toys to the house mom, 'Merry Christmas,' 'Ho, ho, ho,' and run into the night with no one seeing us," smiled Caldwell. "But you know kids on Christmas, any noises in the building that seemed different, whoosh, you've got them all downstairs."
"We met the kids and even though it was December and yes, it's North Carolina, we had to go to the truck complaining about our 'allergies' kicking up," joked Caldwell. "You figure, these kids could get all of us practically in tears and if you're not moved by what Toy Drop does — you're a Grinch. I'm really, really happy about [Operation Toy Drop]. That's what Fort Bragg and Operation Toy Drop can do."
This year's event is promised to be even bigger, allowing more toys to be given to families in need. Drop-off boxes will be available for the outside community surrounding Fort Bragg and the local hockey team, the FireAntz, will be collecting toys during their military appreciation games.
"When Toy Drop comes around, people get more emotional, because they start remembering Randy, and, all the things he stood for," said Jacquelyn. "So it kind of feels like he is still here."
"We have said that if Randy could see us now, he'd be laughing that [the operation] has gone from 'Hey bubby, can you help me get 200 people on a jump to maybe having 2,000 people jumping for the first day alone and possibly having 4,000 to 5,000 toy donations," laughed Caldwell. "And with Charleston [437th Air Wing] on board collecting toys, we could get close to 10,000 toys. Could you imagine how many people we could take care of with 10,000 toys?"
"I don't do it for wings. I don't do it for any other reason, other than the fact that truthfully that's what elves are supposed to," explained Caldwell. "I do it for the kids. That to me is why everybody should be [participating], not because I'm an elf, or whatever. You should want to do this. Every year I look forward to next year. That's why I keep coming back. Twenty years from now I'll still be elfing, maybe in a wheelchair with a walker, but I plan on doing it. I wouldn't give it up for nothing."