Langley tennis wiz earns top ACC sports honor
Ashley Hawkins , 633rd Air Base Wing
2010-12-13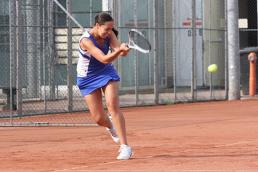 LANGLEY AIR FORCE BASE, Va. -- 12.13.2010 Staff Sgt. Anixa Almeyda, a 15th Intelligence Squadron unit support analyst, added to her collection of tennis accomplishments by winning the 2010 Air Combat Command Female Athlete of the Year, Nov. 24.
Almeyda, who recently played tennis with the newly-formed Air Force Tennis Team, said the award "came as a surprise," as her squadron secretary, Denise Tonkins recommended she be nominated for the award.
"While Sergeant Almeyda had not yet returned from her tour with the Air Force team, an announcement was posted soliciting for nominations for the 2010 ACC Female Athlete of the Year award," said Tonkins. "After reading the announcement, I made the suggestion to [15 IS commander] Lt. Col. Michael McClung that Sergeant Almeyda would be a good candidate for the award."
Almeyda's dedication to the sport began when she was only 7 years old, learning to play from her father, William, at the now-defunct Ramey Air Force Base in Aguadilla, Puerto Rico, her hometown. Following a move to Georgia two years later, Almeyda began playing with the U.S. Tennis Association, developing and honing her skills into her high school years.
"I thank my parents for introducing me to such an awesome sport. My dad was my coach and my mom was the support system," she said. "I wouldn't be who I am today if it wasn't for tennis."
Upon her father's insistence that she pursue tennis at a collegiate level, Almeyda moved to New York where she earned an athletic scholarship to the Brooklyn Campus of Long Island University and played NCAA Division 1 tennis. While at LIU, she led the Blackbirds to the Northeast Conference championship tournament in each of her years at the school.
"I didn't pursue the pros, but [playing tennis for the school] paid for my room, board and college tuition," she said. "Playing college sports was an awesome experience that I will never forget."
After graduating, Almeyda took time away from the sport, feeling "burned out" from years of rigorous competition. She established a new challenge -- becoming an airman in the Air Force in 2004.
"Joining the Air Force was something I always wanted to do," she said proudly. "My dad wanted me to finish my degree first, so I did. But after I graduated, the desire to become an airman was still strong."
Almeyda picked up a racquet and began playing again at Offutt AFB, Neb., her first duty station. After arriving at Langley in 2006, she increased her tennis regimen.
In 2010, Almeyda applied for the Air Force Tennis Team after learning about the opportunity at the Shellbank Fitness Center. Based on her illustrious amateur and collegiate tennis accomplishments, she made the team and travelled to Ramstein Air Base, Germany, to prepare for a tournament in Amsterdam in late September.
Her skills had not disappeared. She went undefeated in singles play, and the United States Air Force in Europe Tennis Team won the tournament.
"It was a lot of fun playing for the team alongside fellow airmen," she said, smiling. "We all had a great time, became very close, and supported each other throughout the whole trip."
Almeyda said she plans to continue making time in her life to play tennis and hopes to be part of the Air Force Tennis Team again during the team's 2012 visit to the United Kingdom.