R&R program reaches one million milestone
Natalie Cole, 1st Sustainment Command (Theater) Public Affairs
2010-12-13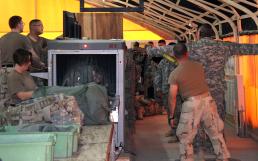 LIFE SUPPORT AREA, Kuwait – 12.13.2010 It's official: As of November, more than one million travelers have passed through the Army Life Support Area in Kuwait, marking a major milestone in the military's Rest and Recuperation travel program.
The R and R travel program was designed to ensure deployed service members and civilians have coordinated travel for the two weeks of leave they are allowed to take at the mid-point of their year-long deployments. For the past seven years, personnel under Third Army have been managing the customs points, passenger terminals, and flight operations at the LSA in support of the R&R program.
With its temporary lodging, morale services, chaplain support, liaison teams, and famed fast food restaurants, the LSA is a bustling desert travel hub that operates 24 hours a day. Tech. Sgt. Barbara Whitaker, non-commissioned officer in charge for Task Force Gateway, Exceptional Personnel Services, said the amenities in the area are intended for travelers who have been serving under high operations tempos in forward deployed areas.
"We strive to make their transition easy from when they departed their area of operation by providing excellent customer service for their time spent here on the LSA until they depart … to meet with their families," she said.
Approximately 300 to 590 people move through the area each day, according to Sgt. 1st Class TaRita Taylor, non-commissioned officer in charge of outbound operations for the 52nd Theater Gateway. She said success for the R and R program is defined as getting waves of travelers out of the area within 24 hours.
The million-traveler mark is another indicator of how the R and R program is working, said Taylor. "For us, it's letting us know that were doing a pretty great job. Soldiers are arriving here safely and they get to go home safely… and then they return back to duty safely to go back and continue on with their mission."
In addition to fulfilling her formal responsibilities at the LSA, Taylor said she and her coworkers often don Santa hats and play music to bring cheer to weary travelers during the holiday season. "We try to keep them motivated, excited," she said.
Petty Officer 2nd Class Kendall Thorne is the leading petty officer of the Freedom Area, the final LSA passenger terminal where travelers wait before getting on a bus to the air port. Thorne and other customs personnel have supported a portion of the million travelers by providing water, snacks, and current updates on flights. He explained that working in the Freedom Area, home to the world's smallest Pizza Hut (unofficially), is his chance to help others who are getting a break from being down range. "I enjoy what I do," he said.
Because of the constant flow of travelers, Whitaker said her sights are already on future milestones. "We have helped [one million] service members and DoD civilians travel home safely to spend time with their families and loved ones, and we look forward to servicing the next million." In January, the U.S. Army will hold ceremonies in Kuwait and at the airports in Atlanta and Dallas to commemorate the million-traveler milestone.