A work of heart
Christine Rosa, 1st Brigade Combat Team, 1st Cavalry Division Public Affairs
2011-03-07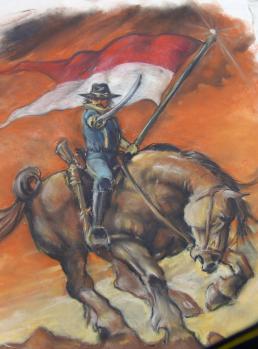 FORT HOOD, Texas – 03.07.2011 "I've been an artist all my life," said Spc. Macaulay. "My earliest memory was drawing things in middle school to try to impress girls, I tried to set myself apart from the crowd," he added with a slight chuckle.
Spc. Scott Macaulay is not your typical soldier, not only is he a forward observer with 2nd Battalion, 8th Cavalry Regiment, 1st Brigade Combat Team, 1st Cavalry Division, he is also a talented artist.
Macaulay's artistic history can be traced back to his great grandfather, who was a freelance illustrator. Receiving an art scholarship after graduating high school, Macaulay attended Maine School of Art. There he worked two years toward a bachelor's degree in Fine Arts, but he wanted to do more. He wanted to see the world.
"I wanted to see as much and experience as much as I could, especially as an artist, I take in everything that I see. I just can't get enough," said Macaulay.
So he went and did just that, he traveled the world. He traveled to California, Washington State, back to the east coast and ended his journey in England, where he spent a year and a half.
After England, Macaulay returned to California in 2008 and enlisted into the United States Army.
"I just thought to myself, 'I haven't seen anyone from an artist perspective actually be in the military,'" said Macaulay. "One of my goals entering the Army was to broaden myself as an artist. It was something I never seen any other artist do; in addition to serving my country I have a sense of duty that I have to fulfill."
Macaulay deployed with 2/8 Cav in 2009 to Iraq.
"When we deployed and I saw the concrete barriers in Camp Buehring, Kuwait, I knew what I was going to be doing," Macaulay said with a devious smile.
He would sketch hundreds of drawings and paint dozens of murals on a range of canvases that ranged from your everyday sketch book to slabs of wood and barriers.
Out of all of the sketches, murals, paintings, and signs he's painted, Macaulay is most prideful of one. It's a mural he painted on a barrier in Camp Buehring, Kuwait while he was deployed.
"I'm very proud of that barrier. I painted that it with three colors, one paintbrush and one Kuwaiti sandstorm!" humored Macaulay. "I can now say that I can paint anything, anywhere, and anytime."
The painted barrier represented the battalion's presence at Camp Buehring. It illustrates a cavalry scout riding on a black stallion while carrying the battalion's guidon. Behind the scout are Bradleys emerging from a trail of sand.
"That's part of the challenge as being an artist, being resourceful and just saying yes to something and making it happen. It's like the Army way of things; find a way to get it done. I already had those properties as an artist."
Macaulay gathered paints wherever he could get a hold of them.
"You had to try to beg, borrow and steal for paint," said Macaulay with a laugh. "I often had to do a big artistic no-no and mix water and oil paints, oils and acrylics," he said. "But your average supply guy isn't tracking the difference between oils and acrylic paints."
When Macaulay wasn't able to gather up painting supplies, he would paint using a digital pen and a computer software program. The program allowed him to digitally paint a picture on his computer. With the use of a digital pen, his artwork stayed true to his way of painting. The pen mimicked his movement onto the computer screen.
Two of Macaulay's paintings, "A good day" and "Another mission" were enlarged and distributed throughout the 1st Brigade Combat Team, 1st Cavalry Division as artwork. The paintings depict the typical days of a soldier deployed.
However, one day Macaulay hopes to make his biggest contribution to the Army and paint a mural for the Fort Hood, 1st Cavalry Division Museum.
"I'm somewhat inspired coming into the Cavalry; I really like the symbolism and history of the 1st Cavalry. I've been called upon to express that in my paintings, the espirit de corps," said Macaulay. "I found that the reaction from the soldiers around me meant more. I've gotten many compliments on my artwork but to see that my artwork was having a positive effect on soldiers and making them stop and say 'It's cool to be in the Cav because of my artwork", it's then that I feel I've succeeded. I wanted to broaden my horizons coming into the Army as an artist, but I never imagined I be doing art work in the Army."'
"Macaulay has done art for plenty of soldiers in all ranks. He's done artwork for Pfc.'s up to first sergeant's, he doesn't always target the higher ups, he paints for everyone," said Peter Nicholson, Macaulay's former squad leader, while he was deployed.
Macaulay's artwork and contribution will last long after he leaves the military; he plans to publish a book of all the sketches and paintings he completed while he was deployed. For Macaulay, it's his way of giving back to the soldiers.
"I never thought I be so lucky to leave my mark in this way. To be in the Army and celebrate the history of the Army and cavalry, but also be a part of it," concluded Macaulay. "I hope I've contributed to the Army."