Families pull through deployment with help from support programs
Sgt. Marcy Sanchez, 1 Marine Expeditionary Force
2011-04-03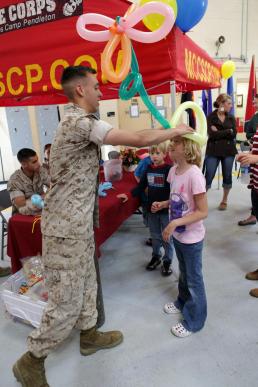 Marine Expeditionary Force - 04.01.2011 Many families who have coped with deployments can vouch for the fact that kids sometimes struggle to deal with the absence of their father or mother.
Whether families are going through their first deployment or their fourth, there are programs and organizations available in their communities to help them through the deployment.
"We've done two deployments in a year and a half," said Kristin C. Sumption, a homemaker and mother of two. Her husband, Capt. William P. Sumption, a foreign disclosure officer with Marine Aircraft Group 16, recently returned from Afghanistan.
"This deployment was a lot harder on my oldest," said Sumption, 28, from Flagstaff, Ariz. "There were lots of questions about where daddy is, when he's coming back and lots of scares at night. We had just come off a Marine Expeditionary Unit deployment so I kind of knew what to expect."
Sumption said she relied heavily on her tight-knit base housing community to help the family while her husband was gone.
Aside from relying on neighbors and friends, Marine Corps Community Services offers programs to help military families cope during a deployment.
Sumption said her oldest son went to the Readiness and Deployment Support Program every Wednesday. The program is one of the many services a available through MCCS, which works closely with the Families Overcoming Under Stress organization.
The support program prepares Marines, sailors and their families for the unique challenges of a deployment through briefings that address issues the family might encounter. The program also has workshops to help children communicate their stresses and emotions, as well as opportunities to communicate with peers so they understand what they're going through.
Other military families might stick to keeping their kids busy with a schedule that occupies their free time.
"We just tried to stay busy," said Tiffany M. Fulton, a homemaker and mother of two, whose husband, Maj. Travis M. Fulton, an ammunition officer with I Marine Expeditionary Force (FWD), recently returned from a seven-month deployment to Afghanistan. Fulton said she kept her two boys busy through youth sports, visiting amusement parks and tourist attractions.
"We've been through multiple deployments," Fulton said. "My kids were more prepared."
Although there are several programs available, some families settle to hear or see their deployed loved one through advanced technology and communication capabilities.
"This deployment was different because the kids were able to Skype with him and see him, which made it a lot easier for them because they could see where he was," Fulton said. "Communications were fantastic, and it really helped out a lot."
"Thankfully we were able to Skype once a week," Sumption said. "Communication was excellent."
Although the online platforms available to Sumption brought her family comfort, her involvement in programs available on-base and in her community saw her through this deployment.
"No other wife unless you're a military wife would really understand." Sumption said. "Even if I lived out in town I would've needed to get involved in groups on base."