Cambria County War Memorial Arena In Johnstown, PA Receives Prestigious Award
Susan Lucas, Cambria County War Memorial Arena
2011-04-22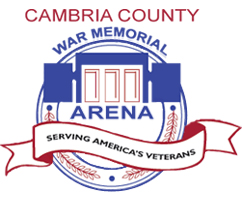 Johnstown, PA – April 21, 2011 The Employer Support of the Guard and Reserve, which is part of the federal Department of Defense, has awarded the Cambria County War Memorial Arena the prestigious Seven Seals Award. The award is "for meritorious leadership and initiative in support of the men and women who serve America in the National Guard and Reserve". The Seven Seals Award represents the Army National Guard, Army Reserve, Marine Corps Reserve, the Naval Reserve, the Air National Guard, the Air Force Reserve and the Coast Guard Reserve.
The award itself will be presented to Tom Young, Chairman of the Arena's Board Authority and Michael Silva, General Manager of the Cambria County War Memorial Arena prior to Friday's Johnstown Generals game.
Marty Kuhar, chairman of the ESGR's Mountain Area, nominated the arena for the award. ESGR's Mountain Area includes Cambria, Somerset, Indiana, Bedford, Blair, Huntingdon and Fulton counties and part of Westmoreland County. Kuhar states, "The Cambria County War Memorial Arena has been supporting the men and women of our military for over 60 years. It is most fitting they receive this Department of Defense award."
The nomination was approved by ESGR State Chairman Major General Wesley Craig. Major General Craig is also in charge of the Army and Air National Guard and Pennsylvania's Department Of Veterans' Affairs. The award is signed by Mr. Dennis McCarthy, Assistant Secretary of Defense (Reserve Affairs).
Since 1977, SMG has provided management services to more than 220 public assembly facilities including arenas, stadiums, theatres and performing arts centers, equestrian facilities and convention, congress and exhibition centers. With facilities across the globe, SMG manages more than 11 million square feet (1.1 million square meters) of exhibition space. As the recognized global industry leader, SMG provides construction and design consulting, pre-opening services, venue management, sales, marketing, event booking, and programming. SMG also offers food and beverage operations through an in house catering company, Savor, currently servicing more than 100 accounts worldwide.
For more information visit: