ABC's Extreme Makeover Home Edition
2011-09-19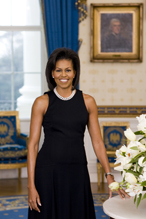 September, 19 2011 - ABC's Extreme Makeover Home Edition "Jubilee/Marshall Family" - The iconic "Extreme Makeover: Home Edition" returns for a ninth season with a special two-part premiere featuring an appearance by First Lady Michelle Obama.
As part of her Joining Forces initiative, Mrs. Obama participated in the episode featuring the Marshalls, a military family based in Fayetteville, NC. The Season 9 premiere of "Extreme Makeover: Home Edition" airs SUNDAY, SEPTEMBER 25 (7:00-8:00 & 8:00-9:00 p.m., ET) on the ABC Television Network.
Barbara Marshall, a 15-year Navy Veteran, is fighting to end homelessness among her fellow female veterans. Barbara became passionately committed to her cause when she noticed that so many of our troops were living on the streets, this after risking their lives to protect their fellow Americans. Instead of just complaining about the situation, this formidable, no-nonsense woman decided to take action and established The Steps-N-Stages Jubilee House in Fayetteville, NC, using her own money. Jubilee House offers shelter, support and services such as mentoring and life coaching to homeless female veterans. Barbara's life is dedicated to these women... they are her mission, her family, her passion. Unfortunately she can only do so much - Jubilee House needed additional space and resources to continue its work with the women.
Barbara served as a Chaplain in the Navy from 1991-2001. She was Reserve for five years prior. Her highest rank obtained was LCDR/04 Lieutenant Commander. She received the Navy/Marine Corps Commendation Medal, Navy/Marine Corps Achievement Medal and National Defense Service Medal. Her 1st TOUR was from 1986-1991, and the 2nd tour was NSWC Dahlgren King George, VA 1991-2001
The paratrooper team from the U.S. Army and other service members joined "EM: HE" host Ty Pennington and the gang to knock on the door of Jubilee House. They sent Barbara Marshall and her family to Walt Disney World, where they were the guests of honor at a military-family themed parade. During the parade, Mrs. Obama surprised the Marshalls and guests at the park with a video greeting from The White House, thanking Barbara for her support of homeless female veterans. Upon their return to Fayetteville, the Marshalls and hundreds of volunteers gathered to "Move that Bus" for the unveiling of the new Jubilee House. As everyone started to chant "Move that Bus," the bus doors opened to reveal a team member who helped build the new Jubilee House, First Lady Michelle Obama.
Mrs. Obama, Ty Pennington and the "EM: HE" team of designers Paul DiMeo, Tracy Hutson, John Littlefield, Sabrina Soto, local builder Blue Ridge Log Cabins and community volunteers helped build the new Jubilee House.
The season premiere episode also features the "EM: HE" team knocking on the door of the most famous house in the nation - The White House. Mrs. Obama gives viewers a tour of the White House grounds and chats with host Ty Pennington in an exclusive one-on-one interview.
A review screener, EPK and clips of this episode will be available at www.abcmedianet.com.
"Extreme Makeover: Home Edition" is produced by Endemol USA, of Endemol Holding, and executive-produced by Brady Connell & George Verschoor. David Goldberg is Chairman, Endemol North America.
For more information on "Extreme Makeover: Home Edition," visit Extreme Makover-Home Edition