The White House Blog: Standing by America's Heroes
Matt Compton
2011-11-21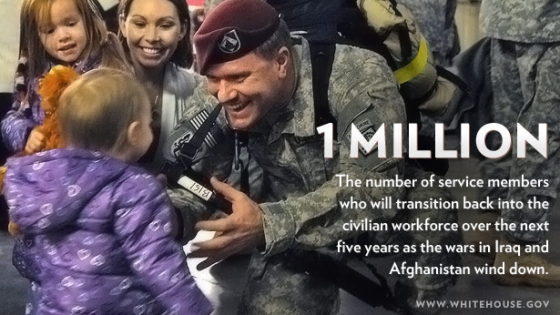 The White House - November 21, 2011 Through the course of the past decade, nearly 3 million veterans have transitioned back to civilian life. As the wars in Iraq and Afghanistan draw to a close, more than a million more service members will join them.
Each of these individuals is highly-trained, highly-skilled, and motivated. They represent some of the best America has to offer.
As a nation, we owe an obligation to these heroes, and it's easy to see how we'll benefit as much from their contributions to the civilian workforce as we have from their service in the military.
That's why creating jobs for veterans has been a major priority for President Obama.
Under his direction, the federal government has hired more than 120,000 vets. Joining Forces, led by the First Lady and Dr. Jill Biden, has organized an initative through which private businesses have pledged to hire an additional 135,000 servicemembers and military spouses. And the Obama administration has set up a series reforms and programs to help veterans get back to work -- you can learn more by visting whitehouse.gov/vets.
Today, President Obama will take another step to help fulfill our obligation to those who wear the uniform of the United States when he signs legislation to create a pair of tax credits for businesses that hire veterans.
Throughout the day, we'll share stories of veterans who will benefit from these measures. Be sure to check it out.