Army green to Marine mean
Lance Cpl. Michael Rogers,
2011-12-01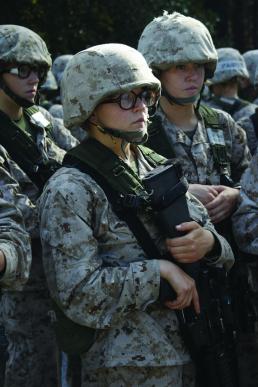 PARRIS ISLAND, S.C. -- Dec 1, 2011 Andrea M. Robb used to be a private first class in the Army National Guard. Now, she is a private first class in the Marine Corps.
A private first class in the Army National Guard is one pay grade higher than in the Marine Corps, but to Robb it was worth losing one pay grade to earn the title Marine.
"I told myself if I was ever going to stay in I was going to be the best," said Robb, Platoon 4039, Oscar Company, 4th Recruit Training Battalion. Robb initially joined the service to help pay for college but quickly fell in love with the life of a service member and made the choice to switch to the Corps.
Recruit training is designed to be difficult. But, Robb came to recruit training with a heads up on all the other recruits in her platoon and it earned her the position of guide, the head recruit of her platoon. Robb is also the platoon honor graduate.
"She came here with some discipline already," said Gunnery Sgt. Holly Askins, senior drill instructor for Platoon 4039. "She came with the expectations that it would be hard."
While she came in with an idea of what would be happening, and experience from her prior service, the Army National Guard doesn't make Marines.
"She learned a lot about teamwork here," Askins said. "She had to learn to hold not only herself, but everyone else, to a high standard."
She took it all in stride, Askins said. She was modest and knew she wasn't a Marine yet and that there were things she needed to learn.
Robb's husband is a Marine and she said that was a large factor in her decision to switch. Robb said that day-to-day she saw the differences in the soldiers around her and the pride of being a Marine.
"Marines look sharp all the time," Robb said. Marines always present themselves in the best manner possible.
Now after 13-weeks of hard work she has regained the rank of private first class, except this time it was coupled with the Eagle, Globe and Anchor.