Afghanistan: Spanish troops of ISAF support campaign in Herat against gender based violence
DVIDS: ISAF Regional Command West
2012-11-29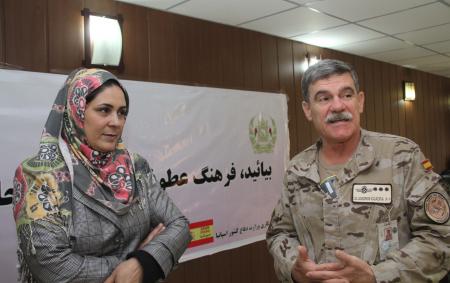 HERAT, Afghanistan - November 29, 2012 The ISAF Spanish contingent based in Herat recently financed a campaign against gender based violence and in favor of equal rights for women.
The campaign consisted in the printing of 500 banners with different slogans in Dari and Pashtun, 1000 magazines and the dissemination of audio messages through public address systems in the streets of Herat. The Spanish Ministry of Defense has provided the funding for the whole campaign as a quick impact civic military cooperation project.
The campaign was presented at Forward Support Base Herat by the FSB commander Col. José de Andrés Cuadra and the director of the department of women affairs in Herat, Mahboba Jamshidi. As a part of the initiatives for the International Day for the Elimination of Violence Against Women, celebrated worldwide Nov. 25, the aim of this campaign, in Jamshidi's own words, is to inform Afghan women on their constitutional rights and try to educate their society on the injustice of violent acts against women.
The Department of Women Affairs has a long history and has played a vital role throughout the years in numerous activities promoting equal rights for Afghan women. Their Herat office has been especially active, making it one the leading branches of its parent organization, the Ministry of Women Affairs.
ts local director Mahboba Jamshidi expressed her gratitude to Spain and its people for their continued effort in women's rights in Afghanistan and sent a message for women worldwide: "They must know that every step an Afghan woman takes implies a great effort, no matter how small that step is."