Steel Knight Ignites
Lance Cpl. D. J. WuSmall , Marine Corps Air Ground Combat Center, Twentynine Palms
2012-12-05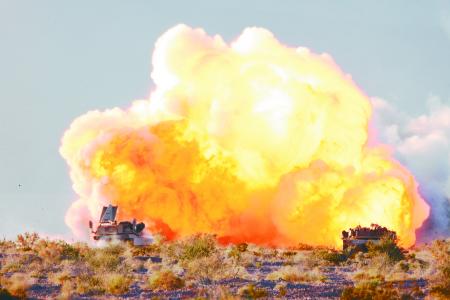 TWENTYNINE PALMS, Calif. - December 4, 2012 Exercise Steel Knight began as a combined arms live-fire exercise in the early 1990s when the commander of 1st Tank Battalion wanted a field training opportunity for his tankers. Since then it has grown to the exercise we know today, a division-level CALFEX that focuses on coordinated fire support and mechanized maneuvers.
The exercise utilizes assets from more than a dozen units from across the 1st Marine Division, including units aboard the Combat Center.
SK13 is the Division's largest annual training exercise. This year, the exercise will be conducted from Nov. 26 to Dec. 18 and will run concurrantly with Exercise Valiant Mark and the Tactical Training Exercise Control Group's Integrated Training Exercise.
"This is the one exercise a year that the division goes out to conduct core mission essential task (MET) training," said Maj. Tom Kisch, exercise coordinator. "It is like a culminating event for the division. Throughout the year, battalions and regiments conducting their own independent training focusing on their own METS. During Steel Knight, the Division brings together all the different elements of the division."
This advanced training event will make use of Marine Corps Base Camp Pendleton, Calif., and Combat Center training ranges. It will include I Marine Expeditionary Force and the Singapore Armed Forces in their participation of Valiant Mark.
"On our part, we're helping the exercise fill in their white space training," said Maj. Robert Bell, current operations officer, TTECG. "When they're not in their formal exercise, we're going to support with additional training."
The exercise involves live-fire training while integrating mechanized assets. The focus of the exercise is to train to core competencies in the combined arms arena.
Portions of the experience will be taking place in the Combat Center's training areas. They will be conducting varied sizes of attacks to improve unit and individual combat proficiency.
The exercise will culminate with a four-day live-fire final exercise that will improve the division's ability to execute its primary mission. "Steel Knight comprises of 'white space' training from Nov 26 - to Dec 9, where all units conduct individual training in prep for the division Final Exercise (FINEX)," Kisch said. This is the largest Steel Knight live-fire exercise conducted ever to date with over 6,000 personnel involved."
SK13 stresses the division's part in coordinating and controlling an operation of this size. It will test their command and control capabilities and their warfighting functions.
The CALFEX is in full swing and will be for the next couple of weeks. The Marines in the division will conduct exercises throughout the Combat Center's Training Ranges.