Where everybody knows your name
Pfc. Andrew Ingram, 1st Brigade Combat Team, 4th Infantry Division Public Affairs
2013-01-24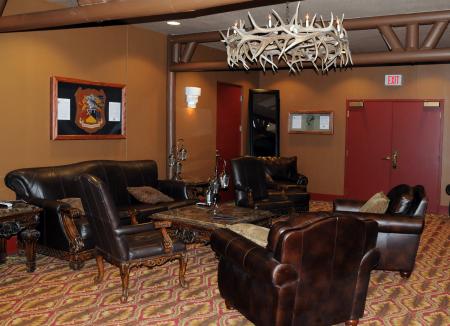 FORT CARSON, Colo. – January 24, 2013 The Elkhorn room at the Elkhorn Conference Center recently underwent a serious make over. Now the cozy sitting room, adjacent to the Ivy Pub, celebrates the history and legacy of 1st Brigade Combat Team, 4th Infantry Division, with "Raider" Brigade memorabilia decorating the walls.
Dedicating a room at one of the post's key social gathering locations to the 1st Brigade Combat Team, 4th Infantry Division, bolsters soldiers' pride and highlights the unit's accomplishments to the rest of the community, said Command Sgt. Maj. Edison Rebuck, senior enlisted leader, 1st BCT.
"It is important for our soldiers to know the Fort Carson is proud of us," Rebuck said. "By highlighting the brigade at the Elkhorn we are also displaying our history and accomplishments to Fort Carson visitors."
The new look has already begun to generate attention, said Martha Jackson, manager of the Elkhorn.
"Everybody loves it," Jackson said. "The room seems to make the soldiers who come through it very proud, and that is what we are going for."
Jackson said she also noticed leaders from other units taking notice of the room's new look.
"I think it is great that the other units might be getting jealous," she said. "I think it will motivate them to make another piece of Fort Carson their own."
In the evenings, patrons of the Ivy Pub often find their way into the Raider Room to watch football or socialize away from the noise and crowd of the pub.
"It has become the unofficial boys clubhouse of the Elkhorn," Jackson said. "There is usually a game with the men bringing their drinks in from the bar."
In addition to showing unit pride and providing a fun environment to relax, the room exemplifies a strong partnership between the brigade and the Fort Carson Morale, Welfare and Recreation program, said Michael O'Donnell, director, Fort Carson MWR.
"By setting up all of the Raider memorabilia on the walls of this room, 1st BCT has made part of the Elkhorn their own," O'Donnell said. "This creates a synergy between the MWR and the brigade. First Brigade soldiers have a place to socialize and celebrate their unit, and all the money the Elkhorn makes gets pumped right back into creating better MWR services."