Engineers engage with robot, certify on Talons
Sgt. Quentin Johnson, 2nd Brigade Combat Team, 1st Cavalry Division Public Affairs
2013-01-24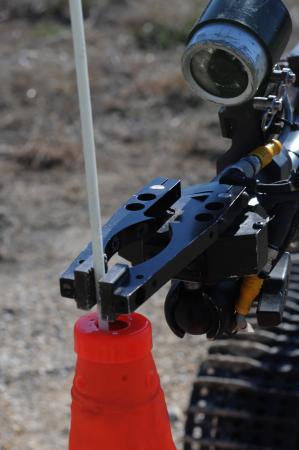 FORT HOOD, Texas – January 24, 2013 A few Black Jack engineers add another important element to their job and training this year using not weapons or tools, but robotics.
Engineers with Company C, 2nd "Spartan" Brigade Special Troops Battalion, 2nd "Black Jack" Brigade Combat Team, 1st Cavalry Division, took part in a robotics certification, Jan. 15 to 16 here.
Eight Spartans trained and certified utilizing the TALON GEN IV Robot in preparation for future assignments overseas while enhancing their engineering trade.
Robotic technicians instructed the engineers on the features, functions and basic operations of the Talon, said Staff Sgt. Xavier Smith, a robotic technician with the Robotic Systems Joint Project Office, Warren, Mich.
Engineers also completed a five-stage obstacle course using the Talon to earn certification.
The course allowed engineers to use all facets of the Talon, to include properly using the mechanical arm, gripper, cameras and track flexibility, Smith added.
However, certifying is only part of the importance to knowing these robots.
"When properly certified, these robots are an additional tool for the engineers to use to safely navigate through any theater of operations," Smith expressed. "We have an unofficial motto here: 'Saving lives remotely.'"
Army engineers stress safety during reconnaissance and route clearance missions with the Talons being utilized to keep any threats from suspected ordinance at bay.
"The robot IDs, integrates and diffuses any suspected known, unknown improvised explosive devices," Smith said. "It is durable under various geographic terrains and various climates."
Pfc. Steven Klein, from Novi, Mich. and a Company C combat engineer, never having used the robots, heard of their capabilities, and how engineers in combat operations utilize them.
"Knowing the robots' capabilities, I was excited for the opportunity to become certified to use them," Klein commented. "It was a great experience that I can use to train other soldiers on and it will help save our lives."
In addition to saving soldiers' lives, Klein said reducing damage to vehicles with early detection of suspected objects on the road is something the robots will be vitally important for.
"The benefits of using robots on, during missions are tremendous. I believe every unit conducting patrols overseas should have one or have soldiers certified in using them," Klein stated.
Klein is thankful for the knowledge gained from the instructors and ready to stay abreast on any improvements or changes to the Talon.
"I will continue with refresher courses as needed and practice with the Talon whenever needed," Klein said. "You can't have to much time learning about or using the robots."
If interested in training on a Talon or another robot currently taught on Fort Hood, units should contact their operations departments (G3) to schedule the class, Smith said.
Classes are held weekly with familiarization courses scheduled on a case-by-case basis.