USO News: Breakfasts for Champions: USO FOB Sharana Fuels Troops
Eric Brandner, USO
2013-02-03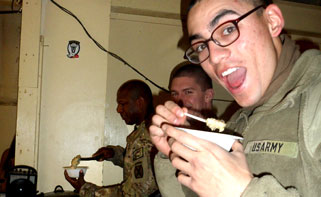 Forward Operating Base Sharana - Afghanistan - January 30, 2013 Breakfast may be the most important meal of the day, but on one base in Afghanistan, it's not easy to find.
Forward Operating Base Sharana – the main U.S. installation inside Afghanistan's violence-prone Paktika province – is winding down some operations. In preparation for the base's eventual closure, breakfast has been reduced to Meals, Ready to Eat (MREs). The dining facility on the USO's side of the base has also shut down its soup-and-sandwich operation between meals, leaving it open only for lunch and dinner service. The base's shopette and Green Beans Coffee location are now closed, too.
So what's a tired and hungry unit to do if their patrol doesn't match up to the meal schedule?
DJ Stanhope has a bowl and a spoon for them.
"[USO FOB Sharana] began the hot oatmeal breakfasts on Jan. 2," said Stanhope, the USO center manager at Sharana. "The breakfasts have been well-received. I tested them out three days a week at first and have already gone to seven days.
"One of the sergeants at the Mayor's Cell said it was the only way he was getting hot food in the morning." The breakfasts consist of old-fashioned oatmeal, evaporated milk, brown sugar, raisins and other chopped, dried fruit as it becomes available.
The key word here, of course, is available. FOB Sharana is in the Hindu Kush Mountains near the Pakistan border and is one of the most dangerously located bases in the 12-year war. The USO can accommodate about 25 troops for breakfast each morning at current donation levels.
Stanhope combats the scarcity of items by using connections to bring in donations. USO volunteer Tyler Forr – a teenager Stanhope met while working for Liberty USO (which covers Pennsylvania and southern New Jersey) – helped coordinate a major influx of breakfast food. There is the large crockpot from Esther Wolfer, a co-founder of the Major Stuart Adam Wolfer Institute, which supports troops stationed both overseas and domestically. There are two mini-triple dipper crockpots, one donated by Ann Yingling – wife of Maj. Gen. (Ret.) John Yingling – and the other by former USO of Northern Ohio Executive Director Berni O'Malley. The cooking utensils are from Bettie Stone, who served as USO duty manager in Kuwait and Afghanistan and as a center manager in Iraq.
"My high school class, college friends and mother have sent us lots of extras as we need them, too," Stanhope said.
She also puts requests for specific donations on the USO FOB Sharana Facebook page and orders nonperishable food and supplies off Amazon.com when donations aren't able to fill the center's needs.
The crockpots come in handy for USO FOB Sharana's recently instituted soup, nacho and chili nights. According to Stanhope, these events grew out of more traditional tailgates the Sharana USO hosted during football season. But with meal options now limited – it can be 15 hours between dining facility-prepared meals – Stanhope has started holding food nights three times a week with an eye toward making them daily events.
Sgt. Kyle Taylor – a Fort Riley, Kan.-based soldier on his third deployment – started helping with the Sharana football tailgate nights back in September. He's seen positive results from the extra food nights.
"[The USO has] really helped out with the morale," Taylor said. "For such a small building and small amount of workers they have done a great job for my buddies and myself."
"It's a great gesture," Army Spc. Lavano Walters said. "If not for this, I'd have no hot food until lunch. I think it's healthier than MREs, too."