Below are some of our previous features on the Kids and Education page.
See our most recent article here.
For a military family on the go like the Brantlys, a portable education is the perfect match
The military life requires sacrifices. With K12, your children's education doesn't have to be one of them.
Indiana. Ohio. Florida. Michigan. These are the states Shelley Brantly and her family have moved into and out of in over a four year period. Shelley's husband is a dentist in the Air Force.
There probably aren't many civilians with a lifestyle as nomadic as this, but to people in the military it's all too familiar—and it can wreak havoc on a child's education. "You can move at any time in the military," says Shelley. "And at any time of year. Continuity in a child's education is extremely important. We're lucky to have K12."
With more than 55,000 students worldwide, K12 is the country's leading provider of online curriculum for kindergarten through high school. The K12 curriculum and online learning system can be accessed anywhere in the world there's an Internet connection (perfect for overseas postings). Parents have a variety of schooling options to choose from, including tuition-free virtual academies in over 25 states, and a private school—the K12 International Academy—available worldwide. Both options offer full teacher support and confer accredited high school diplomas upon graduation.
Shelley's two oldest kids—Coral, age 10, and Landon, age 8—have been learning with K12 from the start: "Essentially, K12 is the only education either of them have ever known." During the Brantlys' time in Dayton, Coral was a student at the Ohio Virtual Academy, a tuition-free, virtual public charter school. Otherwise, they've used K12's independent study option.
"One of the great things about the K12 curriculum," says Shelley, "is that no matter which schooling option you use, it's always the same K12 curriculum. So in all our moves, our kids have never missed a beat in their education, even when we've had to move in the middle of the semester."
A K12 education's seamlessness is enhanced by its portability. Being able to access the curriculum anywhere in the world has its advantages for a military family on the move—even if that move is just a temporary one. "When my husband goes on TDY," says Shelley, "we take the laptop—and therefore school—on the road with us. These may be short deployments, but it still keeps us closer together than if the kids were attending a traditional brick-and-mortar school."
The Brantlys' schooling days go something like this. Coral is up before her mother. She logs in to the Online School and dives right into language arts (which of course includes real books). "She loves to read," says Shelley, "so she always starts with literature." Then it's time to get started with Landon. "He's younger, and needs more help," she says. "They break for lunch around noon and then sometimes take a play break." Coral is in gymnastics, so the family has to be completely finished with school by three o'clock.
But what's continuity and portability without quality? Not a concern with K12. "I'm a teacher by trade," says Shelley. "When we decided to homeschool the kids, I knew exactly what I was looking for in a curriculum. When I saw K12, I knew it would be good."
The K12 curriculum is good in more ways than one. Not only does it deliver a high-quality education, but courses cross reference each other, with the curriculum building on itself—something the ex-teacher picked up on and appreciated right away. "A K12 history class will talk about Galileo, or Einstein, or Copernicus," says Shelley, "which will dovetail perfectly with what they're learning about at the same time in science class."
With multiple states and a variety of educational requirements to deal with, K12 does one other thing that, according to Shelley, comes in very handy: "I've come to realize what a treasure the Online School is. Requirements for education can vary greatly from state to state, from curriculum to attendance and beyond. With K12, it doesn't matter. Their Online School keeps track of everything. This is a godsend for families on the move."
K¹² gets kids into learning, so learning gets into them. And it keeps your educational experience organized and excellent, no matter where in the world you are. Learn more at K12.com/network. Or call 855.900.9142 for more information.

The Big Idea — Educational Down Payments
At K 12, we sometimes speak of students making "down payments." Of course that's a metaphor—we're not signing up third-graders for home mortgages or car loans. However, the down payments we have in mind are investments—not of financial capital, but of intellectual capital.
These down payments are early investments of the student's time and effort to master specific knowledge in expectation of a later payoff. Like an annuity or retirement plan, the more you invest, the greater the likely payoff. The payoff is, in its strictest sense, academic—the early investment of effort pays off later in the ability to understand more sophisticated concepts. But, as we'll see, there can be other payoffs as well.
K¹²'s curriculum is designed to help students make early down payments that build their fund of important knowledge and skills, or intellectual capital. The down payments prepare the early learner, the novice, to think a bit like an expert. In their chosen fields, experts organize their knowledge in specific patterns. The expert's mind does not rummage among randomly stored facts but automatically accesses highly organized knowledge. Think of trying to find an item in a supermarket—you can look for hours if you don't know what aisle it's in, but if you're at your favorite market, you can march right to the shelf with the olives.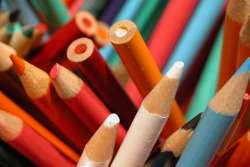 Our curriculum development teams at K¹² are led by experts in each subject. These content specialists organize the curriculum in ways that help students make early down payments that will pay off in their later learning. In planning both an individual course and the sequence of courses across grade levels, content specialists organize units, lessons, and activities in ways to help lead novices—your students—over time, step by step, closer to expert status. Students who successfully proceed through the planned course sequences recommended by K¹² make down payments that help them gradually acquire both the factual knowledge and habits of mind that characterize experts in the field. For example:
Very early in our elementary history program, students learn the geographical fact that in the region called Mesopotamia, one of the first civilizations developed along two rivers, the Tigris and the Euphrates . That fact is a down payment. Students begin to see how the fact fits into a pattern as they notice where other ancient civilizations developed—along the Nile in Egypt , along the Indus in ancient India , along the Yellow and Yangtze Rivers in China . As students repeatedly see the importance of rivers to the development of early civilizations, they begin to develop a mental frame of reference that is second nature to an expert historian, which is to see geography and history as an interrelated matrix of time and place.

Beginning as early as kindergarten in our language arts program, we ask students many questions that require them to support their answers with evidence from the text. "That's an interesting idea about Rabbit. Now, can you tell me one thing he does in the story that makes you think that?" In later grades, in both literature and composition lessons, students are repeatedly asked to support their ideas with meaningful evidence. This repeated practice is a down payment toward expertise in law, literature, journalism, or indeed in any field that demands logical argument and clear presentation.

In elementary math, when we teach fourth-graders to find the rule in a pattern, we're helping them make a down payment on their understanding of functions. For example, what is the rule for the pattern 2, 5, 8, 11, ... ? When students learn to find the rule, they come to understand that you can make a "machine" using numbers that takes an input and gives you outputs—and that is the essence of functions, which are the building blocks of many important advanced concepts in modern mathematics.
Are these down payments strictly academic? Not necessarily. They can open the way to social and financial gains. The more effort you invest in making down payments in your child's early education, the more intellectual capital he or she will acquire. And the more intellectual capital your child has, the greater his or her chances for financial and social prosperity.
As E.D. Hirsch Jr. explains in The Schools We Need (Doubleday, 1996), "Those children who possess intellectual capital" can gain still more knowledge. But those children who" [are] lacking the relevant experience and vocabulary—they see not, neither do they understand"." A lack of intellectual capital hampers a child's ability "to communicate in speech and writing, to learn new things, and to adapt to new challenges." In short, as Hirsch concludes, "a child's accumulation of wide-ranging foundational knowledge"—that is, of intellectual capital—"is the key to educational achievement."
K¹² has developed a curriculum designed to help children make numerous down payments and build their fund of intellectual capital. Regardless of what students become—whether marine biologists, orchestra conductors, medieval historians, tax accountants, or fashion designers—by building their intellectual capital, they are making down payments with the potential for significant payoffs, possibly in wealth, certainly in living a more fulfilled life as an informed, adaptable, thinking person, ready for whatever the future may bring.
K 12 is serious about education—serious learning—and giving youths access to a high-quality, engaging curriculum. Its mission is to provide every child access to an effective academic program regardless of geographic, financial, or demographic circumstances.
While it's hard to imagine what education will look like in ten years, a revolution in learning is happening that might surprise many—but it fits right in with today's students.
K 12 aims to provide the tools kids need to succeed, in school and beyond.
To learn more, visit www.K12.com/mil or call 866.968.7512.

Online Schools give students on the move an anchor
Imagine taking school with you, wherever in the world you go.
Sound impossible? Believe it or not, it's happening more often than you might realize.
Every year, thousands of students in elementary, middle, and high school are leaving the classroom to pursue their education online. Today, an estimated one million students in kindergarten through high school are learning online. Some students take one or two supplemental courses, while others opt to enroll full-time in online schools.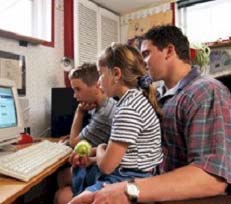 The demand for and popularity of these schools is growing quickly.
For many of today's students, it makes sense. Having the flexibility to attend school any time, any place suits many students, especially those whose families travel frequently or live abroad for extended periods of time.
One of the largest providers of online learning is K¹². With more than 50,000 students in online public schools in 21 states, and thousands more using their web-based courses, K¹² knows a thing or two about learning.
Core courses in math, language arts, science, history, art, and music-and a host of elective courses such as foreign languages, Advanced Placement, and business courses-help bring learning alive. Families also receive online lessons, assessments, planning tools, traditional books, teacher support, and even supplies for science experiments.
K¹² brings the school to the student, rather than the student to the school.
And K¹² is serious about education-serious learning-and giving youths access to a high-quality, engaging curriculum. Its mission is to provide every child access to an effective academic program regardless of geographic, financial, or demographic circumstances.
On the K¹² website (www.K12.com/mil) you can find examples of the diverse students who are benefitting from the program: a military family who wanted consistency in their children's education; young professional skiers from Idaho and Colorado; child actors from California who are establishing careers in Hollywood; rising young musicians who are taking their dreams to Nashville and New York City; and athletes who are competing across the world in the hopes of reaching the Olympics. K¹² students are living their dreams, without missing a step in their education.
K¹² provides solutions for other needs as well, from children who aren't suited for or are unable to learn in the traditional classroom, to students who don't feel safe in a school building, or students who need a more personalized academic program to meet their individual needs.
While it's hard to imagine what education will look like in ten years, a revolution in learning is happening that might surprise many-but it fits right in with today's students.
K¹² aims to provide the tools kids need to succeed, in school and beyond.
To learn more, visit K¹²'s website or call 866.968.7512.

FAMILY ACTIVITIES & ONLINE FUN:
There are may websites that offer suggestions for activities to keep famililes occupied during "normal" times as well as more stressful times, such as those surrounding and during deployment. Use te links below for more information.
FAMILY LINKS:
Below are links to more sites containing information about a vast variety of topics. Use these links and learn right along with your children!