---
---
---
---
---
For more information about sponsoring opportunities please email Military Family Network
Disclaimer: eMilitary is in no way affiliated with the Department of Defense (DoD) or any branch of the Armed Services (Army, Navy, Air Force, Marine or Coast Guard) and inclusion on this site does not reflect endorsement by the DoD, any local government or their agencies.

This is a leadership resource guide for FRG's. We include this information on one page with drop down sections so that it may be printed and used as a reference. ALL LEADERS WILL BENEFIT FROM DOWNLOADING A COPY OF THE SPOUSE's BATTLEBOOK. This is a large document, but is the be all end all to volunteer and group leadership. Download now! You need Adobe Acrobat to view. Please go to Adobe.com if you need to download a copy of the free viewer.
According to the Army's Guide to Establishing Family Support Groups, FRG's are a time honored institution of people helping people. Being a member of the Army family is not very different from being a member of any family in that each day brings challenges that are best met with the support of one another. The Army life presents many opportunities and many challenges that are best shared with other family members, as they have the experience and understanding to help you get through the day.
WHAT FRGs ARE NOT:
A FRIENDSHIP CLUB, OR ANY KIND OF CLUB
A UNION FOR FAMILY MEMBERS
A LOAN OR SOCIAL WELFARE AGENCY
A TAXI SERVICE
A PHILANTHROPIC OR ENTERTAINMENT GROUP
A RELIGIOUS ACTIVITY
A BABYSITTING SERVICE
AN ANSWERING SERVICE
The Army in their FRG Guidebook outlines the benefits FRGs present in this way:

1. For the family member: Unit FRGs foster a sense of belonging to the unit and community and provide a vehicle for families to develop friendships while they gain information about the unit and community. In addition, they provide information, referral, and share support during deployments. Through successful FRG efforts, many spouses have developed a more positive attitude toward themselves, a better understanding of why deployments are necessary and the Army mission to maintain readiness.

2. For the soldier: FRG's provide support that communicates command caring, integrity of care and, as open and honest communication as possible. This allows soldiers to trust in that care, which enables them to concentrate on the mission at hand, and have the emotional readiness to carry out that mission. FRG's help develop a confidence in soldiers that family members will receive a reliable and friendly support when the soldier is away. This can be a meaningful stabilizer for soldier performance in the unit and an enhancer of training and psychological readiness to fight.

3. For the Unit Command: FRGs and the resources they have available to them in the command structure can assist in developing resilient families that are better able to cope and function in times of separation and or crisis. A unit FRG affords increased levels of confidence, commitment, and a sense of well-being among soldiers and family members, and the potential for fewer training distracters. The FRG can contribute to unit cohesion and soldier readiness. Through prevention and education programs and family activities, FRGs can help families overcome problems that are likely to impact adversely on soldier performance. A well functioning FRG can minimize family distracters conserving the unit commanders' time and resources (psychological, social and budgetary) for military purposes.

4. For the Active Duty Installation: Through information and proactive education and prevention programs, unit FRG's can provide early identification of serious family problems and provide information and referral at an earlier stage. This can reduce the amount of trauma the family experiences and the level of demand placed on installation or community agencies. FRGs are able to supply information and referral services to family members concerning military and civilian community resources and opportunities and can foster interdependence and family member resiliency. The FRG can contribute to other Army family programs that enhance the overall quality of community life, such as sponsorship of newly arrived families to the unit, post, armory or Reserve center, outreach programs for off-post and geographically separated families, prevention of social-psychological isolation among junior enlisted families, rumor control, and support of family members experiencing undue stress during deployment.

FRG STRUCTURE

There is no "ideal" way to set up an FRG. The best structure is one which is created to fit the unit, its mission and the unique make-up of its family members and their needs. Generally, the FRG function focuses on deployments. Its organizational structure depends on local conditions such as the type of military organization, geographic proximity and unit size. The system should revolve around the natural leadership abilities of the volunteers. Spouses should NOT be pressed into service simply because of the soldier's position. Rank should NOT be a factor in the role unit FRG volunteers play.

According to the Army, the general goals and activities of FRGs include:
Provide an opportunity for family members to mutually support and assist one another.
Develop and operate systems to provide information and education programs, welcome and orient new families, promote involvement, and prevent isolation.
Interact with military family members, the unit commander and rear detachment commander or military POC at the unit and higher levels.
Help involve families in unit activities
Refer family needs that cannot be met by the FRG to the appropriate unit, installation or community resource.
Provide information to families who remain in the local area while soldiers serve unaccompanied tours.
Assist the unit in developing and evaluating mobilization and deployment handbooks. Ensure that all family members have deployment handbooks and installation and unit telephone directories.
JOB DESCRIPTIONS
(Source: 3rd Infantry Division FRG Handbook)

FRG LEADERS

The leader can be any family member in the unit whom the Commander has appointed and endorsed. FRG Leaders' responsibilities include:
Becoming knowledgeable of unit mission, existing FRG operating procedures, structure and community resources.
Recruiting , training, and managing volunteers and using community resources as needed.
Organizing unit level readiness groups
Tracking and recording volunteer hours
Obtaining names, addresses, telephone numbers, and e-mail addresses of all family members, including extended family members of single soldiers.
Preparing telephone trees and keeping the lists current.
Calling the Key Contact Person to activate the telephone tree
Attending and chairing FRG meetings.
Ensuring communication is maintained among members
Coordinating with community resources to provide training for FRG members
Maintaining communication with the Commander and/or unit Point of Contact (POC).
Identifying family members' concerns and relating those concerns to unit leadership.
Working in conjunction with unit leadership to minimize rumors and stress.
KEY CONTACT PERSON

This is the designated telephone contact volunteer. The general point of contact between the FRG leader and the group membership.
Calling assigned FRG members
Maintaining up-to-date names, addresses and telephone numbers for assigned FRG members.
Providing timely and accurate information to family members.
Ensuring accessibility for information and referral assistance.
Ensuring contact is maintained.
Providing information and referral assistance to family members needing assistance.
Working in conjunction with company leadership to minimize rumors and stress.
Identifying assigned FRG members' concerns and relating those concerns to the FRG Leader.
Attending FRG meetings.
TREASURER

Serves as the fund custodian for the FRG. The Treasurer's duties may include:
Keeping accurate records of FRG funds.
Arranging for regular and change of custodian audits.
Attending FRG meetings.
Providing regular reports to the Commander.
Providing timely and accurate financial reports.
FRG MEMBERS
Update address and telephone numbers.
Fulfill any accepted volunteer responsibilities
Stay informed
Attend and participates in FRG activities.
ADDITIONAL VOLUNTEER ROLES:
Newsletter Editor
Childcare Coordinator
Special Events
Refreshments
Health and Welfare
Publicity
SENIOR SPOUSE ADVISOR (SSA)

The SSA may be the spouse of the Division, Brigade, or Battalion Commander or the spouse of the Command Sergeant Major. Spouses do not have rank. Spouses' chains of communication generally follow the same chains of command established by the military. The SSA duties may include:
Providing a communication network between the command, the FRG and families.
Identifying common problems, concerns and issues, and making recommendations to the appropriate level of command.
Promoting and supporting the training of volunteers at all levels of command.
Serving in an "advisory" capacity.
Participating and offering assistance as needed upon request.
Back to top
GETTING STARTED AS A NEW FRG LEADER
(Source: 3rd Infantry Division FRG Leaders' Handbook)
Meet with the Commander and discuss the following points: command policy and philosophy with regard to FRGs, frequency of meetings desired by the Commander, resources available to FRG (ie, access to alpha roster, use of government facilities, funds and reimbursable expenses, office space with desk and chair, access to copy machine, mailing/postage, telephone with on and off post lines, fax machine, supplies, access to computer/typewriter, access to e-mail, and transportation support), expectations during active and sustainment levels (active is all phases of mobilization/deployment, and sustainment is non-deployment/mobilization periods.)


Plan the first meeting: assess the potential FRG population, obtain and review alert roster, develop and use a survey sheet, obtain and maintain a unit family information sheet, determine optimal meeting day, time and location.


Identify resources required: childcare, meeting location to include seating, refreshments, set-up and clean-up, transportation, support staff for first meeting.


Determine the best method for marketing the FRG meeting: personal contacts via telephone, personalized invitations mailed to family members, unit newsletters, flyers and installation community newspaper.


Encourage participation: make FRG FUN, Survey family members to determine needs, interests, and frequency of meetings, offer practical activities, communicate with newcomers soon after their arrival, offer transportation to first meeting, make meetings brief and enjoyable, provide childcare and/or child activities when possible, Do not feed rumors, present a positive image and encourage full participation.


Create an FRG Binder with the following information:


Copy of Battalion FRG SOP
In-house letter of FRG Leader Appointment signed by Commander
In-house letter of Fund Manager Appointment signed by Commander
Informal Fund Establishment Request (if installation DCAS requires), copy of approval kept.
FRG leader training record (copy of certificate)
Back to top

VOLUNTEER MANAGEMENT
(Source: 3rd Infantry Division FRG Leader's Handbook)

The FRG leadership should establish a service record for each volunteer. It should include: a summary of the volunteer's service in your FRG and a written job description for each permanent position/capacity in which the volunteer works. An accurate record of volunteer hours worked.

The volunteer service record helps you and your fellow volunteers do the following: divide the labor among FRG volunteers in accordance with their skills, experience and personal interests, verify volunteer's eligibility for awards and provide a summary of their accomplishments while working with your FRG- which may come in handy should they need to put together a resume.

SUMMARY OF VOLUNTEER SERVICE

Refer to DA Form 4162-R (ACS Volunteer Service Record) as an example. Your FRG is welcome to use the form if you don't want to design one on your own.

RECORD OF HOURS WORKED

Keep a separate form on file for each volunteer. you can summarize all time donated on one form or keep a separate form for each committee/area they work in. Credit each hour of volunteer service performed, hours spent in orientation and other FRG training activities. Credit Invitational Temporary Duty at conferences or workshops involving overnight travel at 24 hours per day. When volunteers perform on-call duties, award either two hours of credit for each 24 hours spend on call or the total time spent actually providing services during their tour of on-call duty, which ever is greatest.

WRITTEN JOB DESCRIPTIONS

FRG Leaders, Newsletter editor, Treasurer and chairpersons for other committees within each FRG should have job descriptions on file with volunteer signature.

The Job Description should have the following elements:

Position Title
Supervisor
Goal
Responsibilities
Time Commitment
Qualifications
Training Provided
Obligation


Statement of understanding and signature/Date

RECOGNIZING VOLUNTEERS

Recognizing volunteers is essential to keeping your FRG a happy place to work (not to mention keeping your volunteers!)

There are many official Army awards. Please check your local installation guidelines for submitting your volunteers for these awards. Apart from these, it is important to recognize the daily efforts of volunteers. Here are a list of the "small creative thank you's:"
THANKS FOR RAISIN' THE TOUGH QUESTIONS
NO ON HOLDS A CANDLE TO YOU
YOU ARE A LIFESAVER
YOUR VISION IS OUR GUIDING LIGHT
YOU TAKE THE CAKE!
THANKS FOR WORKING YOUR BUNS OFF
A NOTEWORTHY ACCOMPLISHMENT
YOU ARE BERRY SPECIAL
HUGS AND KISSES
I'LL STICK WITH YOU
YOU'RE WORTH A MINT

- mini box of raisins
- scented votive candle, birthday candles
- package of candy with a note
- mini-flashlight
- cupcakes
- hot cinnamon buns
- package of post-it notes
- fresh berries or jam
- Hershey's candies
- stick of gum
- package of peppermints

10 TIMES FOR RECOGNITION

1. When they sign up to volunteer
2. Informal thank you's- always
3. Monthly recognition (articles, award)
4. Annual appreciation certificates, dinners, etc.
5. At the completion of a project (letter, promotion, certificate)
6. At meetings- say thank you.
7. Cards at birthdays
8. Cards when they are sick.
9. Recognition when they leave.
10. During National Volunteer Week

Back to top

ACTIVITIES FOR MEETINGS

The primary focus for FRG meetings is to disseminate information. However, you want to have people show up, so it is a good idea to plan a program or activity to give the meeting substance and an element of fun. Activities for FRG meetings can include:
Red Cross Speaker
Tri-Care :Take Care of Yourself Class
Bowling outing
Craft making session
CAFAP (Consumer Affairs Financial Assistance Program
Themed activities (major holiday parties)
AFTB Classes
Legal Assistance Speaker
Games (Bingo, BUNKO etc)
Communication Workshop through Chaplain's office
ACS Classes
Family Day
Personal Security Classes
Back to top

FUNDRAISER MANAGEMENT

The military regulations concerning fundraising are:
AR 215-1
AR 215-2
Local DECA and AAFES Pams
GENERAL IDEAS
(PLEASE CHECK EMILITARY's FUNDRAISER ARCHIVE FOR SPECIFIC IDEAS AND/OR TO CONTRIBUTE YOUR OWN)
Check local regulations before planning fundraising events. The first step is to call either JAG or the Directorate-of Personnel and Community Activities (DPCA or DCAS). -Do not take this lightly!
Some local merchants gladly donate items for fund raisers!
Carnivals:
game booths (basketball throw and dunk tank)
food booths
Fun Run/Volksmarches:
entry fee sponsorship of $$$ per mile food booths along the way or at the end prizes
(solicit donations)
Car Washes (donations are best)
Dog Washes
Surprise Packs:
package boxes of donated items (baked goods, gum, soda, candy, toothpaste, razors, etc.)
have auction
sell raffle tickets; pick winner out in field
Bake Sales:v company areas, PX
pick specific days of week; repeat day after pay day
at special training sites
meal time or evenings
donation only
Baked Goods' Bags:
gather together at someone's house (bake cookies, make candy)
put in plastic bags
auction off in field
ask for donations
Booths:
food (taco, hot dog, popcorn, cotton candy, nachos, sandwiches)
take advantage of post celebrations (July 4th)
at sporting events
bazaars
Auctions:
services (yardwork, meals, housework, baby-sitting, car wash)
white elephant
concealed package
boxed meals
silent (have items; put list by item; sign list with offer)
pie throw
commander's parking space
commander for the day
days off or passes for soldiers are illegal
Raffles:
keep tickets cheap
give buyers bargain with ticket sales ($ I/each, 3 for $2)
dinners (with baby-sitting)
packages at hotels (solicit)
quilt
trips
at kid's function: raffle popular kid's item
outdoor adventures
basket with baby item
Flea Markets:
Thrift Shop (unit c6nsigment)
local swap meet
donated item
yard sales and garage sales
sell table space
Dirty Deeds:
decide on item or service to sell (i.e., commander shines boots)
set a goal ($ or #)
get celebrity to do something crazy if you reach your goal
get celebrity to do services (auction or raffle off)
Fines:
missing buttons on uniforms
not wearing unit pin
not having unit coin
Games:
gambling (Reno night)
bingo
road rally or scavenger hunt (entry fee; prize for winners)
Unit Store (homemade items on-consignment)
Recycling
Piggy Bank (in company area for spare change)
Talent Show
Wrap Gifts at Christmas (wrapping and mailing)
Unit Cookbook
AFTER ACTION REPORTS
(Source: Spouse's Battlebook)
We found that it is extremely beneficial to keep detailed records of major unit activities and functions. You then have a solid foundation for any succeeding events.
Suggested topics should include:
1. Name of the affair, date, location, time.
2. What were your responsibilities?
3. Who were the members of your committee? How were they selected?
4. Were there other individuals who were helpful to your committee? Make a list of their names, addresses, and phone numbers (if pertinent).
5. How did you prepare to do your job? What resources were necessary?
6. What expenses did you have and for what?
7. List the stumbling blocks and pitfalls you wish you had avoided. What would you advise the next person in your role?
8. Pinpoint your single biggest frustration. How could you have overcome it?
9. What changes would you like to see in the running of your job next time? Others' jobs?
10. What went especially well? Why?
11. If you had it to do over again, would you accept this job? Why or why not?
12. Are there any other comments or additional information you'd like to mention?

Back to top
DEPLOYMENT CHECKLIST
Marriage Certificate.
Birth Certificates of all family members:

Wife
Husband
Children ______ ______ ______ ______ ______

Divorce Papers
Death Certificates
Medical (Shot) and Dental Records of all family members (including pets)
Citizenship/Naturalization papers
Adoption Papers
Passports, Visas (remove only when needed for international travel)
Insurance policies (Note: Company, Policy # and Amount of Payment)
Real Estate Documents (leases, mortgages, deeds, or promissory notes)
Copies of installment contracts and loan papers
Current list of immediate next of kin, personal lawyer, trusted friend (include phone # and address)
Car title (registration should be in car)
Last LES (Leave Earning Statement)
Discharge papers (DD Form 214)
Allotments (Updated with correct amount, name, address, account #)
Social Security Number of each family member
Current address and telephone numbers of immediate family members of both spouses
The Following Should be Completed Prior to Deployment
Next of kin informed of rights, benefits, assistance available
Family budget and business arranged ( See Financial Section for Budget Worksheet)
Emergency Data Card updated in Military Personnel Record
Joint checking/savings account arranged (List all account numbers)
Parents informed of how to make contact in case of emergency
Armed Forces ID Cards (Renew if ID Card expires within next 3 months. Rear Detachment Commander can sign for ID Replacement after soldier deploys)
Emergency services explained and located:
Red Cross/ Army Emergency Relief (AER)
Medical facilities/CHAMPUS
Army Community Service (ACS)
Legal Assistance Office
Security check on house
Problems with cars, household, and appliances identified and resolved
Power of attorney

GENERAL: Allows holder to act in all matters on sponsor's behalf
SPECIAL: Allows holder to act on sponsor's behalf in special transactions.
MEDICAL: Authorizes holder to obtain medical care for family members under 18 years of age.

Wills for both spouses
Orders
Copy of Emergency Data Card
List of all credit cards and account numbers
AAFES Deferred Payment Plan (DPP), (to use, spouse must be listed as an authorized user or hold sponsor's General Power of Attorney).
Federal and State Income Tax Returns (last 5 years)
HOUSE CARE CHECKLIST

Take a 10 minute walk through your house. Carry this checklist to help you truly see your home. The idea behind this walk is to look for fire hazards. You don't have any? Are you sure? Perhaps this list will change your mind.

KITCHEN: YES/NO
____ Are curtains, dish towels, or paper items kept away from stove?
____ Is stove's exhaust hood and ductwork clean of grease?
____ Do you have a working fire extinguisher close at hand?
LIVING ROOM. DINING ROOM. BEDROOMS: YES/NO
____ Is fireplace spark screen always closed?
____ Is electrical wiring/circuits/outlets adequate to handle load?
____ Is there sufficient space for air circulation around TV/stereo?
____ Are ashtrays available in home occupied by smokers?
____ Are matches and lighters out of reach of children?
ATTIC, CLOSETS. STORAGE ROOM: YES/NO
____ Do you keep oily cleaning rags in tight metal containers?
____ Are you using only nonflammable cleaning fluids?
____ Do you avoid accumulations of paper and combustible materials?
WORKSHOP: YES/NO
____ Are combustible materials kept away from heat sources?
____ Are paint thinners, paints, and solvents kept in their original containers for identification purposes?
____ Are the furnace, heaters, vents and chimneys inspected and serviced regularly?
____ Are fuses of the proper size for the circuits they protect?
____ Are the dryer lint trap and vent kept clean?
GARAGE AND GROUNDS: YES/NO
____ Is gasoline for the mower stored in a safety can?
____ Have you removed accumulations of trash and paper?
____ Are oil-soaked rags in tight metal containers to prevent combustion?
____ Do you use commercial starter fuels (not gasoline) for barbecue fires and are barbecue mitts ember-proof?
____ Are there dry leaves under porches or wooden stairs, in window sills, or anywhere else close to the house?
SELF CHECK: YES/NO
____ Do you know where the electrical box (fuse/circuit box) is and how to replace fuses?
____ Do you know the location and procedure of shutting off water/gas Master Control values in case of broken or leaking pipes?
____ Do you inspect electrical cords frequently and keep them in good condition?
____ Do you use extension cords only for temporary convenience, never as permanent wiring?
____ Do you enforce a "NO SMOKING IN BED" rule?
____ Do you and your family avoid using hair spray near open flames or while smoking?
____ Does everyone in the family know how to call the fire department or dial the operator?
____ Does each telephone have the fire, police, and ambulance numbers close to it?
____ Does your family have a fire escape plan and has your family drilled with it?
____ Do you make sure your children are not left unattended and instruct baby sitters about emergency procedures?
NOW IT IS TIME TO ADD UP YOUR ANSWERS. To how many of the questions did you answer "NO" to - one or two? Your home is pretty fire safe. But remember, just one can cause a tragedy! If you had 5 or 6, you are risking the safety of your family. If you have more than 6, you are asking for trouble. Take action NOW!

SMOKE DETECTORS Buy a battery operated smoke detector. It is one of the best and most inexpensive forms of fire insurance. It will not prevent a fire from starting, but it may save your life! Be sure to check the smoke. detector on a regular basis.

HOME TOOL KIT
| | |
| --- | --- |
| Flashlight and extra batteries | Hammer |
| Assorted Nails, screws and tacks | Screwdrivers |
| Masking Tape | Scissors and/or knife |
| Pliers | Wrench |
| Furnace Filters | Extra light bulbs |
FINANCIAL
Who will have the checkbook and who will have the cash card? Remember it will take a week or longer for mail to be forwarded to the spouse's new duty station. Plan on paying bills timely.
What types of accounts does the family have with what banks? Do the current accounts allow family members access to funds?
Where are the bank books and account numbers?
Are all the credit card numbers written down and in a safe place? Are the numbers and company addresses recorded in case of loss or theft?
Are you knowledgeable about check writing? How will you determine if there are insufficient funds and what is your plan in case this happens?
If allotments or check to the bank are delayed who can you contact?
Resource: Deployment Booklet: Designed for Families of Deploying Soldiers, 567th Transportation Company, 7th Transportation Company, Fts Eustis/Story, Virginia
Hotlines and Family Support Information Contact Numbers
Army
(800) 833-6622
PURPOSE: The purpose of the Army Family Assistance Hotline is to provide families and loved ones caring support in the form of accurate information, useful resources, and helpful referrals related to family issues. The Family Assistance Hotline is a "safety net" for those who have exhausted all other information resources.
Air Force
(866) 299-0596
PURPOSE: This line is an information and referral resource for both active and reserve Air Force service members and families.
Coast Guard
(800) 872-4957 ext. 932 - Coast Guard EAP for HQ-Work-life program; open normal business hours
Defense Logistics Agency (DLA)
(800) 222-0364
(314) 264-7702 - for persons calling from OCONUS; ask operator to reverse charges
PURPOSE: DLA Life Connections is an Employee Assistance Program that offers information and referral assistance with the following issues:
Family-Adoption, Prenatal Care, Child Care, Adult Care, Parenting, Relationships, Domestic Violence, Aging Loved Ones
Health & Wellness-Diet/Nutrition, Fitness Programs, Children's, Men's and Women's Health
Education-Preschools, Schools, Special Education, Colleges, Financial Aid.
Financial/Legal - Credit/Debt, Insurance, Retirement/Estate Planning, Taxes, Wills.
Daily Life-Automotive Services, Home Improvement, Moving, Pets, Special Events, Travel

Deployment Health Support Hotline
(800) 497-6261
PURPOSE: Contact manager provides accurate and up-to-date deployment health information about present and past military deployments to service members, veterans, family members and the general public. As needed, the Deployment Health Support Directorate provides case management and referral services. Hours of operation: 9:00 a.m. to 9:00 p.m. EST. Associated Web sites include DeploymentLINK and GulfLINK.
Marine Corps
(800) 336-4663 - for Marines stationed East of the Mississippi River, excluding Wisconsin
(800) 253-1624 - for Marines stationed West of the Mississippi River, including Wisconsin
National Guard Bureau
(888) 777-7731 - a toll free number for each National Guard is accessible through this number

Navy
(800) FSCLINE or (800) 372-5463
PURPOSE: Information and Referral service (e.g. general family support, Command Ombudsmen/family support groups and Care Lines, Web sites, Navy Casualty information, referral to nearest Navy FFSC.) Other FFSCs provide similar information locally during normal business hours.
Sample FRG Forms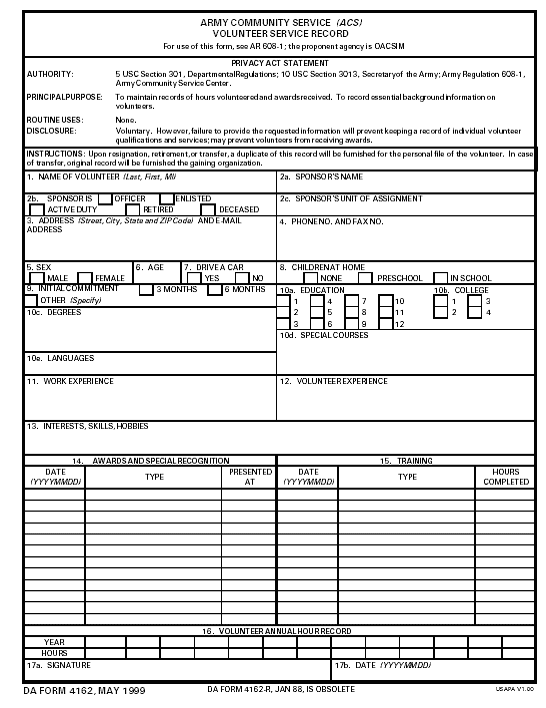 Back to top
MAIN CHANNELS

INSTALLATION COMMUNITIES


OUR PARTNERS