A Message from Your MFN Team
It's the holiday season, a time for giving, for friends and family, and for reflecting on the past year and looking forward to the next.
Last month, we thought about the things we are thankful for. This month, we can give a little back. It doesn't have to be a big thing. Dropping off a new toy at your local toy drive can put a genuine smile on a child's face. That overcoat you've outgrown could keep a man warm on Christmas Eve at your local homeless shelter. The dinner invitation to the military family next door could help ease the sorrow of being separated from a loved one. Even a simple smile at the harried checkout clerk at the mall could make a real difference in her day. When we give freely of ourselves, we often receive much more in return.
At the Military Family Network, it has been a year of transition and change - something that military families can certainly understand. While change can be unsettling, it can also unveil tremendous opportunities. We are very excited about the coming year and the improved features and services we will bring to the military family community. From our upcoming book Your Military Family Network to a redesigned website with greatly enhanced interactivity, we look forward to serving you in the future. It is our sincere wish that you have a healthy, happy, and prosperous holiday season and New Year.
Happy Holidays!
The Military Family Network Team
News You Can Use

Get The Military Family Network News delivered right to your email with Google News Alerts: Click here to subscribe
---
Giving Back Wisely
It's the season for giving.
Show your thanks by volunteering over the holidays. Not sure where to begin? Catch the Spirit, written as a student's guide to volunteering, is a great place for anyone to begin exploring the world of volunteer opportunities. There are many reasons to volunteer. But one should be universal—volunteer for something you can enjoy.
Websites like USA Freedom Corps and Volunteer Match allow you to match your interests with volunteer opportunities in your neighborhood, making it that much more convenient and rewarding to donate your time.
Before donating money, check out these tips for giving wisely from the Federal Trade Commission and the FBI. The FTC also has guidelines for avoiding charity- fraud. A number of nonprofit groups, including the American Institute of Philanthropy and Charity Navigator, have websites for rating charities. Charity Navigator also provides a helpful Holiday Giving Guide.
---
IRS Has $110 Million in Refund Checks Looking for a Home
Read the article here
---
Study Participants Wanted – "Impact of Reunification on Soldier Families – A Longitudinal Study"
Source: Dr Peggy McNulty - University of Hawaii at Manoa (Read article on news page )
Army Reserve Families are being sought to participate in study: "Impact of Reunification on Soldier Families - A Longitudinal Study." The study will look at the impact of the reunification process on soldier families from minus 3 months to 12 months post return of the soldier from Iraq. The families will only need to answer surveys that will be sent to them in pre-paid envelopes during the study. Families will agree to answer the same surveys over 4 periods: - 3 months prior to the return of the spouse; 3, 6 and 12 months after the return of the spouse.

The study will compare responses from active duty and reserve families in the hope of identifying needs that can be implemented for future deployments. The study is in great need of obtaining an additional 250 army reserve families and will send the surveys with cover letters to all families that agree to be a part of the research.

Families will be given a small token of our appreciation in the form of two $10 gift certificates during the course of the study.
Families interested in participating in this study, please contact Dr. Peggy McNulty directly at 808-956-5226 or email schofieldstudy@hotmail.com
Additional Contact information:
Peggy Anne McNulty, DrPH, CPNP, CFNP
Assistant Professor
University of Hawai'i at Manoa
School of Nursing & Dental Hygiene
2528 McCarthy Mall, Webster Hall 413
Honolulu, Hawai'i 96822
Phone: 808-343-9569
Fax: 808-956-3257

Review DoD Memorandum Accepting University of Hawaii and Dr. Peggy McNulty to complete study entitled: "Impact of Reunification on Soldier Families - a Longitudinal Study"
---
Program Builds Strong Army Marriages
Elizabeth M. Lorge

"The core of the program is communication styles, how to communicate well when it counts most, when you have something very sensitive to talk about or when the topic is risky or a high-emotional topic," said Chaplain Sachs. "We teach our participants about communication patterns that are toxic to a marriage, how to avoid them and what to do when you find yourself in one of those patterns. We talk about problem-solving or conflict-management, how to approach things that you differ on and come to conclusions, solutions, that are a productive way to represent what both husband and wife want." Read more about The Strong Bonds training program at this link.
---
Maintaining Your Privacy – Online and Off
You may be following the news on the proposal for a "Do Not Track" list to protect Internet users from targeted online advertising. The Do Not Track list, advocated by consumer groups including the Electronic Privacy Information Center, would be similar to the National Do Not Call Registry that protects consumers from unwanted phone solicitors.
While the FTC researches the options, there are a number of resources currently available for protecting your privacy. Check out this FCIC Consumer Focus article on online safety and security, as well as our Privacy Resources page, which links to federal agencies and nongovernmental organizations that can help protect you and your family's personal information and privacy rights.
---
Health Care Update
Why Advance Directives and What You Should Know

More than ever before, people with cancer and their families are being asked to take part in decisions about end-of-life care. Yet, most people still do not discuss end-of-life care at all, even if they are seriously ill. This fact sheet provides patients with an outline for thinking about these issues and some guidelines for discussion with their doctors, families, and loved ones. This fact sheet is also designed to help patients understand the medical, legal, and personal choices they may face in the future. See More at: http://www.emilitary.org/article.php?aid=12825


---
Food Safety Tips for Healthy Holidays
Parties, family dinners, and other gatherings where food is served are all part of the holiday cheer. But the merriment can change to misery if food makes you or others ill. Read More to enjoy your holiday festivities: http://www.emilitary.org/article.php?aid=12826
---
Weekend Warriors, if you don't take time to warm up and stretch, then you just may want to check out This Link to learn about the differences between sprains and strains, how to treat them and prevent them – the next time!
Or, better yet, to keep you at your best visit U.S. Army Hooah4Health for great information on health, fitness and overall well-being!
---
Beating the Flu
Every year, more than 200,000 people in the United States are hospitalized as a result of the flu. About 36,000 die.
Most adults with the flu can spread it to others starting one day before symptoms develop and up to five days after becoming sick. That means that you may pass the flu to someone else before you even know you are sick.
Getting vaccinated is the single best way to prevent catching and spreading the flu. To raise awareness of this fact, the Centers for Disease Control has declared Nov. 26 to Dec. 2 as National Influenza Vaccination Week.
Get prepared for the season. Learn more about preventing and treating the seasonal flu with this pamphlet from the Food and Drug Administration. To find out where to get a flu vaccine locally, visit the American Lung Association's flu clinic locator.
Military Spouse Career Advancement Initiative

The Military Spouse Career Advancement Initiative is designed to advance military spouses into portable careers by providing them with education and training in high-growth, high-demand occupations. Career Advancement Accounts are flexible education funding accounts to pay for expenses directly related to post-secondary education and training, including tuition, fees, books, equipment, and credentialing and licensing fees. Read more here .
---
This Holiday Give a Gift That Keeps On Giving!
---
Operation Troop Appreciation Opens Supports Service Members with New Online Store
In an effort to assist our troops overseas, Operation Troop Appreciation has selected Lorenz Personalized Gifts to offer for sale various gift items proudly displaying the Operation Troop Appreciation (OTA) logo. In return for your support, a portion of each item sold will be donated to OTA to provide the troops with items they may need or strongly desire; items generally not provided throughout their normal course of duty.
There are a number of signature logo items designed to demonstrate support for the deployed members of America 's Armed Forces. From coffee mugs, to baby bibs, golf shirts to license plates, there are sure to be a number of items that you can use or would want to give to your patriotic friends and family members.
Operation Troop Appreciation is a 501 (c) 3 non-profit corporation in the state of Pennsylvania . Since July, 2004, OTA has granted "wishlist" items to over 30,000 deployed members of the United States Armed Forces.
Visit OTA at http://www.lorenzgifts.com/viewproducts.html and start your Christmas shopping today!
---
Shop Giveline.com for the Holidays and Support Troops and Veterans through VFW

Get a jump start on your holiday shopping and visit Giveline.com. Every time you purchase gifts online, you could be helping the VFW.

Your online shopping can now benefit a good cause - without spending an extra dime more than your usual online purchasing, just by shopping at Giveline.com this holiday season.

Giveline offers more than a million bestselling products perfect for Christmas, including books, movies, music, electronics, housewares, gifts and more. Every purchase you make generates a substantial donation to the VFW - an amazing average of 16% of store sales, sometimes as high as 33%.

This means that every time you shop on Giveline.com, you're supporting the VFW. It's that simple.

Visit Giveline today and instantly see the contribution your purchase makes during check out. Shop now to get FREE SHIPPING!*

Be sure that when you shop at Giveline, you see "You are shopping for Veterans of Foreign Wars" in the upper right corner to ensure that VFW receives a portion of your purchase as a donation.

We hope you'll also forward this email to your family, friends and co-workers and ask them to make their online purchases on Giveline.com.




Business Feature
---
Employer Support of the Guard and Reserve
The National Committee for Employer Support of the Guard and Reserve is seeking employers with records of stellar support for military employees. The group is accepting nominations for the 2008 Secretary of Defense Employer Support Freedom Awards through Jan. 21.
"Almost one-half of the U.S. military is comprised of the National Guard and Reserve," said Beth Sherman, an ESGR spokeswoman. "The Department of Defense shares these citizen warriors with their civilian employers, many of whom provide significant support to (these) employees."
Past recipients of the award have provided full salary, a continuation of benefits, care packages and other forms of help such as home and lawn care for families of employees fulfilling military obligations.
"While all employer support is exemplary, small employers that go above and beyond the requirements of the Uniformed Services Employment and Reemployment Rights Act to assist their employees serving in the National Guard and Reserve, really set the bar high (last year)," Sherman said.
USERRA prohibits discrimination against people because of military service.
Augustine and Sons, a family-owned farm in Iowa , is one example of a small business that goes out of its way for its employees, Sherman said.
When one of its employees, 1st Sgt. Matthew Strasser, an Iowa Army National Guardsman, was deployed, the farm lost half its staff. Yet the Augustine family offered its continuing support to the family Strasser left behind.
"They allowed Strasser's wife and … two sons to live on the farm rent-free," Sherman said. "The Augustines took the boys fishing, attended their sports games and fixed their dirt bikes."
Large businesses previously recognized for their exemplary support include Sears and Starbucks. The commonwealth of Massachusetts and the state of Tennessee both are past recipients of the public-sector award.
ESGR is encouraging National Guardsmen, reservists and their family members to nominate employers who offer their employees similar support. Nomination forms are available on the committee's Web site, www.esgr.org.
Last year, 1,119 nominations were received. To date, ESGR has received 268 already this year.
"Given that employer support is so strong, we hope reserve-component members will see fit to nominate their deserving employers," Sherman said. "This kind of recognition establishes a benchmark for all employers, and we hope this recognition is a small thank you from the Department of Defense."
Winners selected in three categories will be announced in early spring and will receive their awards during a Sept. 18 award ceremony.
Founded in 1972, the National Committee for Employer Support for the Guard and Reserve is a Defense Department agency established to promote cooperation and understanding between reserve-component members and their civilian employers. The organization also is a supporter of America Supports You, a Defense Department program connecting citizens and corporations with military personnel and their families serving at home and abroad.
---
MFN Book Club
Order Now and Save- Your Military Family Network
Everything you need to know from Enlistment to Retirement! The Military Family Network and Capital Books in Washington DC are publishing the Nation's first military family resource book. This 850-page book will cover all major military support topics from moving and deployment to money and employment. Find out what you need when you need it.
To order your copy of Your Military Family Network or copies for your organization, please Visit Your Military Family Network online or call 1-866-205-2850 for more information. Military discounts apply.
---
Mission Critical Information / Kids Corner
This month we've combined our Mission Critcal Info and our Kids Corner, since having fun is mission critical to all military families! Visit the Links below with your kids, and enjoy a few moments of fun.
All of these activities are Free!
*Track Santa with NORAD (Dec. 24)
---
Be sure to check these websites when picking out gifts for little ones:
Infant Child Product Recalls
---
MFN Military Friendly Deals
Glamour Shots in the Southeast Offers Free 8x10 Portraits for Military Families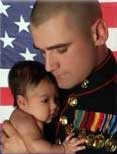 The Military Family Network has teamed up with Glamour Shots located in the Southeast to provide a free session and 8-by-10-inch portrait to active duty, National Guard, Reserve, and retired service members and their families.

The Military Family Network is a member of America Supports You, a Defense Department program highlighting the way Americans and the corporate sector are supporting the nation's service members.

"As a retired member of our armed forces, I know how important it is to have high quality portraits of our loved ones, for those families who are at home and for our (service members) serving away from home," Al Sciarrino, veteran and owner of Glamour Shots stores in the Southeast, said.

Families can make an appointment at the Glamour Shots stores in Newport News and Richmond, Va., Jacksonville, Fla., Nashville, TN, Augusta and Savannah, Ga., and Bel Air, Al., to have their free portrait taken. Apart from the free 8x10 portraits and special pricing on other packages offered, Glamour Shots offers an ongoing 10% discount to the military on all Glamour Shots services.

"Mr. Sciarrino knows first hand what it is like to be a military family and how special photographs can be to our families," Caroline Peabody, President of the Military Family Network, said. "Our service members are doing their best every day to protect our nation, we are proud of Glamour Shots for giving this wonderful gift ... that will keep giving throughout their lives."
---
Shopping-Bargains.com Offers Free Discount Coupons and Promotions for More than 1,000 Stores
Continuing its tradition of creating value for the military community, The Military Family Network is excited to be teaming up with Shopping-Bargains.com which offers military service members, Reserve and Guard, veterans and their families an opportunity to enjoy tremendous savings on various quality retail products and services for less. Shopping-Bargains.com provides a free, private, no registration shopping experience for bargain hunters, coupon clippers and online shoppers. The website offers online coupon codes, free shipping bargains, printable grocery store coupons and other promotional discounts.
Shopping-Bargains.com is an online shopping network of more than 1,000 stores and websites including favorites like JCPenney, Target, Macy's, Amazon.com, Dell, Overstock.com and eHarmony. More than just a listing of secure and reputable stores, Shopping-Bargains.com publishes coupons for free shipping, discounts including dollar off and percentage off savings, special Internet-only promotions and exclusive online bargains for these stores.
"You really can pay less if you shop with us first," said founder and president of Shopping-Bargains.com, Mike Allen. "Our free shipping and coupons savings are perfect for military families who want brand name savings and online shopping convenience."
"We invite our military community to discover the advantages we offer by visiting us today," states Allen.
The founder of Shopping-Bargains.com, Mike Allen, moderates the Military Deals Forum located at http://www.emilitary.org/forums/index.php?showforum=128.
The founder of Shopping-Bargains.com, Mike Allen, moderates the Military Deals Forum located at http://www.emilitary.org/forums/index.php?showforum=128
---
Organization Spotlight
USO and CarePages.com Honor Wounded Troops
This holiday season, CarePages.com is proud to partner with the USO to bring attention and support to our wounded warriors. The wounded and their families are encouraged to post their story on the Yellow Ribbons for Our Wounded Troops tribute page so that America can show their support by posting a yellow ribbon in their name.
---
Community Connections Update
Operation Ensuring Christmas For the Children of Fallen Troops
Operation Ensuring Christmas provides financial, moral and rehabilitative support to the Children of Fallen American Troops by providing them Christmas Gift Cards at Christmas and a 'Christmas in July', VIP theme park trip to Orlando Florida. This support is to help them recover from the grief and trauma caused by the ultimate sacrifice a child can make for their country...the loss of a parent in war.
Operation Ensuring Christmas was founded for the purpose of bringing a little extra joy to children who have lost a parent in Iraq or Afghanistan after 9/11. For many it will be their first Christmas without a father or a mother.
You can get Christmas Gifts to the children of Fallen Soldiers this Christmas. You can support our troops who have made the Ultimate Sacrifice by helping Fallen Troops children during the 2007 Christmas Holidays.

OEC needs your support to continue making plans for the many children who so deserve their 'Christmas in July', VIP Orlando Theme Park Vacation. OEC offers this program to the children year round where they spin, splash and ride their way to being kid's again. Please read this touching letter from 'Hunters' mom about their "magical" experience.
Visit Operation Ensuring Christmas here.
---
Veterans
---
VA to Hire Veteran Employment Coordinators
The Department of Veterans Affairs (VA) today announced the initial hiring of 10 full time Veterans Employment Coordinators to focus efforts to attract, recruit and hire veterans throughout the Department. These coordinators will work closely with the recently formed Federal Recovery Coordination Program to assist Operation Enduring Freedom and Operation Iraqi Freedom veterans to potentially obtain employment with VA. For more information on these positions and where to go to learn about other federal job opportunities visit http://www.emilitary.org/article.php?aid=12676
---
Social Security Improves Service and Expands Outreach to Wounded Veterans
Michael J. Astrue, Commissioner of Social Security highlighted a number of activities Social Security has undertaken in the last several months to improve service and expand outreach to wounded veterans and their families. Read article here.
---
Modernizing and Improving the Disability and Compensation Systems
On November 9, the Department of Veterans Affairs intends to solicit outside bids to be able to award one contract to conduct two important technical studies that will assist decisions to be made regarding the updating of our military disability system. The studies are part of the recommendations of the President's Commission on Care for America's Returning Wounded Warriors, co-chaired by former Sen. Bob Dole and former Health and Human Services Secretary Donna Shalala. Read more about this and a new pilot program requiring a single physical exam to determine medical fitness of injured personnel to remain in uniform at http://www.emilitary.org/article.php?aid=12675 and http://www.emilitary.org/article.php?aid=12879