Military Family Network News ·
June, 2009
A MESSAGE FROM YOUR MFN TEAM

Thank You
We would like to thank everyone who helped us promote our "Sound The Alarm" campaign! In case you missed it somehow, we asked everyone to set their cell phone alarm for 3pm on Memorial Day. This was to serve as a reminder to take the moment of silence in honor of those who made the ultimate sacrifice. As busy as we all are, it is often easy for the 3pm time to slip right by. We had many many people who helped us to remind everyone of the importance of this day. Thanks to all, and let's make this an annual event!
Of course, this month we have Father's Day on June 21. During this time to honor the sacrifices our own fathers make for their children, we need to also keep those fathers in mind who are unable to be with their families as they are deployed overseas keeping all of us safe. Be sure to see the story about the Stars and Stripes Father's Day message program later in this newsletter.
And don't forget the beginning of summer, also on June 21. As you spend time with your family and enjoy the warm weather, vacations, and family time, be sure to keep in mind that there are many who cannot be with their families at this time because they are giving us the freedom to enjoy it!
Until Next Month (or you can email us at connections@MilitaryFamilyNetwork.com if you just can't wait!),
NEWS YOU CAN USE
Association of the US Army Family Programs Newsletter: Great Opportunity to Stay Abreast of News that Matters to YOU!
This newsletter is published bi-monthly by the AUSA Family Programs Directorate, Sylvia Kidd. Here's a peak at a few of this month's highlights:
Parkinson's Bill Introduced
Further GI Bill Changes Must Wait
2nd Try: More Retirement Credit for Reserve
Senator Introduces Caregiver Legislation
Governor Signs Bill Honoring Soldiers
Tennessee Military Sites to get Millions
Social Security for Wounded Warriors
Taxpayers May Get Rude Surprise
Lawmaker: More Need Stress Help
No Increases for TRICARE in the 2010 Defense Budget
Read full stories and more in this month's newsletters here and/or here.
If you would like to receive the Family Programs Update by e-mail, please send a message to familyprograms@ausa.org and type "subscribe" in the subject line.
---
Welcome to Camp Ramadi University
Service members on Camp Ramadi , Iraq , can take college courses and complete exams necessary to receive certifications thanks to a resourceful Washington Army National Guard Soldier with a need, some motivation and a few friends. Read more..
---
Struggling in This Economy? Soldiers Say Budgeting Best Way to Save
For some people, talking about finances or the current economy can translate into headaches and heartburn, but at Camp Atterbury , Soldiers are more than up to speed on how to save in tough times. More here…
---
President Obama and Vice President Biden's Personal Financial Disclosures Now Available
President Obama and Vice President Biden have made their personal financial disclosures available. Read more here…
---
Military Working Dogs Are Vital Members of Manas K-9 Crew
The Manas military working dogs unleash loyalty, determination and stamina as security forces shields. Read more here…
---
Tornado Safety: One Year After Tornado Season Approaches for Severe Weather Awareness
As tornado season approaches and we near the one-year mark of the tornado that touched down here, it is time to be more aware of the possible dangers that these violent storms can pose. More info...
---
Face of Defense: Chaplains Reinforce More Than Faith
Reinforcements are something every unit loves to have -- more soldiers help to win the fight and save lives at the same time. The duty of being a soldier can be difficult at times, and no matter how many extra soldiers arrive to the battlefield, the burden sometimes just does not seem to lift. Read more...
[top]
TRICARE UPDATE
A Glimpse at the Many Sides of Alcohol Consumption
A glass of wine with dinner or a champagne toast are nothing out of the ordinary. Social drinking is widely accepted, but also an opportunity for excessive alcohol use. Alcohol use and abuse has long been a concern of the Department of Defense (DoD). More here…
---
TRICARE Reminds Beneficiaries of Covered Infertility Treatments
Infertility is a difficult condition for couples to cope with and TRICARE beneficiaries may be wondering what their options are if infertility becomes an issue. The answer is, with a few important exceptions, TRICARE covers infertility treatments. Read the full story at TRICARE site …
---
Independent Survey Ranks TRICARE Tops in Beneficiary Satisfaction
An independent survey ranked TRICARE as number one among 22 of the largest healthcare and health insurance plans in 2008. Army Maj. Gen. Elder Granger, deputy director of TRICARE Management Activity ( TMA ), recently accepted the recognition on behalf of TMA . More…
http://www.militaryfamilynetwork.com/article.php?aid=14476
---
New Web Page Guides TRICARE Beneficiaries to Behavioral Health Resources
A new Web page for TRICARE beneficiaries takes the
brainwork out of seeking help. May is Mental Health Month, and at http://www.tricare.mil/mentalhealth, TRICARE is committed to providing beneficiaries with the most up-to-date information about available its behavioral health resources. To view the entire news release visit:
http://www.tricare.mil/pressroom/news.aspx?fid=526
[top]
RELOCATION INFORMATION

The Military Family Network (MFN) is proud to partner with BR Anchor Publishing. Their books offer efficient and cost-effective relocation information that addresses the concerns of all employees, spouses and children. In addition, their publications feature separate military chapters, websites, resources and checklists, prompting military bases around the world to use our books for their "Smooth Move" programs. See our special military prices at http://www.branchor.com/mfn/.
To order, contact Amy Roman, Publisher at aroman@branchor.com or 800.735.9209 in the US and 904.641.1140 worldwide and mention you are an MFN member.
[top]
VETERANS CORNER
VA Web Site Helps College Counselors Aid Veterans
"Many of our newest veterans are beginning their post-service lives by furthering their educations," said Dr. Gerald M. Cross, VA's acting undersecretary for health. "This initiative is designed to ensure that colleges and universities are able to assist with any special mental health needs they may have." Read more…
[top]
MFN BOOK CLUB
You and Your Military Hero
Empowering Children
May has been designated Military Appreciation Month – a time for all Americans to honor military personnel and reflect on their sacrifices for this great nation. Millions of military children are forced to make dramatic changes in their everyday lives when their loved ones are deployed. Research has concluded that changes are less stressful for children when they have the tools to manage their daily stressors.
You and Your Military Hero was developed to provide positive coping tools for military children (ages 5 – 1s2) as they adjust to their "new normal" during deployment.    This new, interactive activity book incorporates a friendly dog, Flipp, who guides the child through original games and activities on a fun-filled journey that helps develop positive coping strategies.  You and Your Military Hero can be used by both family members and professionals alike to help the child maintain a positive perspective during this challenging time.
You and Your Military Hero
Enhances emotional well-being
Develops positive coping skills
Empowers children and military families to maintain a positive perspective  
Provides regular opportunity for adult/child connections
Offers user- friendly format for both family members and professionals
UFLIPP, LLC is honored to be aligned with the mission of the Military Family Network and support military families by improving the child's well-being and establishing positive connections. 
In addition to The Military Family Network, other national organizations such as the Military Child Education Coalition and National Military Family Association have endorsed this activities book.  For more information on You and Your Military Hero , please visit www.uflipp.com.
---
Reporting For Doodie
by J.L. Smith
"What would you do if you were a (suddenly) single Grandmother and both your daughter and son-in-law were deployed at the same time, leaving you as primary caregiver for your 2-year old grandson??? You'd do exactly what I did - REPORT FOR DOODIE!
...I hope you enjoy this account of how this beautiful child saved me from myself an how I used 'The Secret' to channel the inner strength my mother gave me...all compliments of the U.S. Military."
Find out more at the Reporting for Doodie website.
---
Your Military Family Network is Here! Order Your Copy Now!
The Military Family Network and Capital Books in Washington DC have published Your Military Family Network - the Nation's first military family resource guide! This 650-page book covers all major military support topics from enlistment to retirement! Learn how to create your own personal support network so you have what you need when you need it. Find chapters on money management, TRICARE, relocation, deployment, employment and education as well as military and veterans benefits, PTSD and much, much more. The book also features a compilation of state and local resources available to military families - for the first time in a comprehensive and easy format.
Retailing for $24.95, The Military Family Network is offering this valuable, must-have resource at $14.95+s/h. Buy it for yourself, your family, a friend or loved one – MFN guarantees best price on the web! To order your copy of Your Military Family Network or copies for your organization, please visit Your Military Family Network online or call 1-866-205-2850 for more information. Group discounts available – call or email sales@MilitaryFamilyNetwork.com for details.
[top]
Manage Your Subscription: Subscribe · Unsubscribe


BUSINESS FEATURE

GoGoShopper.com Saves You Money
Whether you're looking for drugstore coupons or great deals on your favorite fashions, you've come to the right website. GoGoShopper.com started in 1999, when a poor student was trying very hard to save some money for his tuition. Back in those days of pinching pennies, Amazon coupons and other online discounts were real life savers.
Over time, digging up the best online coupons, deals, and freebies on the Internet became one of his hobbies. Because of this, he decided to create a site that would bring all of these coupons and great deals to one place, making it easy for shoppers to find the Target or HP coupons they need to get the savings they want on all kinds of products. GoGoShopper is designed to be a place where folks can spend less money when shopping online, or even get something for free.
In 2005, the now-employed student quit his job and incorporated GoGoShopper.com. Today, GoGoShopper.com is a full-time endeavor, managed by Macche Corporation, with 2 employees. It continues to grow each and every day, hunting for new online stores and coupons, from Newegg promo code for tech lovers to JC Penney coupons for clothing shoppers. It is our goal to provide you with the latest information on ways for you to save money. Find Overstock coupons and much more when you browse our website.
ORGANIZATION IN THE SPOTLIGHT
This Month, We Turn the Spotlight On MFN!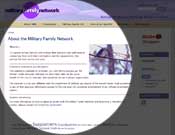 You undoubtedly have noticed the new look of our newsletter over the last couple of months. But did you know that this is actually a preview of great things to come?
That's right, within a few short weeks we will be launching the brand new, totally redesigned MFN website. It starts with a sleek new look, but that is only a small part.
There are numerous new features, including improved and simplified navigation, enhanced forums, the ability to add your own blog, and a dedicated server giving us much more bandwidth and processing power, which provides you with a greatly improved user experience.
You've already seen the ever increasing number of experts in various fields who are coming on board with MFN to provide you with the information you need. Enhanced search and tagging capabilities will make it easier for you to find this information.
And there is so much more. How many times have you read one of our news articles and wanted to respond? Or perhaps you read an informational piece on our site, and had additional information you would like to contribute. Well, now you will be able to! You will be able to leave comments, discuss topics with you fellow community members, easily syndicate the content to your RSS feeds, and much much more.
Keep watching!
[top]
THIS MONTH'S FOCUS
Stars and Stripes Will Deliver Father's Day Messages
Stars and Stripes has launched its annual free Father's Day Messages Program. Messages will be accepted until June 20; but only messages received by the May 29 deadline will be printed in the European, Pacific or Middle East edition of Stars and Stripes. All messages will be available for viewing at Stripes.com.
Postings are accepted online and are FREE to all military, friends and family. Visit Stripes.com for deadlines and other details.
[top]
FAMILY SUPPORT
Vice President's Wife Dr. Jill Biden Meets With San Diego Military Spouses
The wife of the vice president spoke with military family members and support group representatives at the Island Club on Naval Air Station North Island here on May 14. More here..
---
'Her War' Podcast Aims to Help Military Wives
When Melissa Seligman's husband left for his second deployment to Iraq , she knew all too well what was expected of her. Full Story here.
---
Summer is Here
Ah, summer in Indiana ... Time for warm weather, sun-brewed iced tea and lazy hammock naps in the back yard. A time for families to get together and enjoy the fruits of nature, and a time to lay back and relax. Read here....
---
Consider exercise bands, balls for home workouts
By Lt. Col. Karen E. Hawkins, DeCA dietitian

It is possible to get a really good workout at home using an exercise ball, exercise bands and a good pair of tennis shoes. Many of us don't have time to go to the gym so we can use this convenient workout equipment to tone and strengthen our muscles, along with regular aerobic activity, such as walking, to help burn calories. Read more...

[top]
MONEY, EDUCATION & EMPLOYMENT
Military Families, Stretching Your Dollars? States May Have Your Money!
When you join the military, you travel and move frequently. Relocation just becomes a fact of life. So, do you think it just might be possible that you may have forgotten a thing or two? Like updating a forwarding address?
If this happens, and a company, organization or government agency can't locate you, but they have cash that belongs to you, by law, they just can't keep it. They must, after a certain period of time, transfer the assets to the State of your last known address. As a result, all 50 States have gobs of funds just sitting in their 'unclaimed property' accounts. And, they are anxious to return it to the rightful owner, for free. That owner might just be you!
In fact, just recently, in a special section of the Pittsburgh Post-Gazette, Pennsylvania's Treasury Department, reported that they have 2 billion dollars in unclaimed property!
These monies can come from housing or utility deposits, bank or credit union accounts, wages, gift certificates, insurance payments, company dividends and more. A lot of times the monies can originate from the estate of a deceased relative, so don't forget to do a search for their names, too. Now, go to http://www.militaryfamilynetwork.com/pay.html to learn how to search and file claims for your money. And don't forget to tell your friends and relatives to look, too!
---
Business Leaders to Review DoD Personnel System
The Defense Department has turned to a group of senior executive business leaders to review its newest system of hiring and compensation. Go here..
---
White House Transportation Looking for Recruits
Have you ever wondered who drives many of those black armored cars in the president's motorcade? Or who makes sure that Air Force One is properly loaded? More here…
[top]
COMMUNITY
We are a caring and Christian Military couple in Virginia who are excited about building a family through an independent adoption search.
We will provide a loving, happy, stable, home and lifestyle for a child/children. Please consider us and feel free to share our website with friends or family members who may be pregnant and considering placing their child for adoption.
http://adoptababy.vpweb.com/default.html
[top]
MISSION CRITICAL INFO
*Advertising and Sponsorship Opportunities Available!
Newsletter!
Website!
National Military Resource Book!
Contact Megan Turak at sales@MilitaryFamilyNetwork.com for more details.
*Military Community Submissions:
If you have a story that you'd like to share with The Military Family Network, please contact Megan Turak. If you have a song or photo that you would like to share with The Military Family Network, please contact Luis Trevino.
---
Get Seen! Get Heard! Join MFN's Referral Network!
The Military Family Network has connected and worked with media outfits of all kinds including ABC, NBC, CBS, MSNBC, Montel Williams, Dr. Phil Show, Sesame Street, AARP, Newsweek, Army Times, U.S. Army, U.S. Marine Corps, Social Security, Department of Labor, Military OneSource, Reader's Digest, VFW, United Press International, Lifetime, etc. and countless newspapers around the world. These organizations contact MFN for a variety of reasons, but in each case, they want to hear from the military community.
If you are a service member, military family member or veteran and would like to be included in MFN's referral network for media opportunities, please email lou@militaryfamilynetwork.com with your interest and contact information and Lou will be glad to include you for future opportunities.
Privacy Notice: The Military Family Network is committed to ensuring the privacy of our military community according to the Department of Defense and MFN does not release or sell information about individuals. In the event that you participate in MFN's referral network, you will be contacted by MFN about the opportunity first and if you are interested, you will be given the choice to provide MFN with permission to release your contact information (name, email or phone only) or be given the contact information to make the connection yourself. If you are an active member of the Armed Forces, it is always advisable to contact PAO for guidelines, permission, etc., before participating in public media opportunities.
[top]
MILITARY FRIENDLY DEALS
Commissary Connection!

Commissaries.com | DeCA Dietitian |Kay's Kitchen
WHAT'S IN IT FOR ME?
"SPRINGTIME IS GRILLTIME" Helping on the Homefront Event

During June Clorox brands are promoting family togetherness for commissary customers by helping you barbecue at home. To support the homefront, Clorox will give away 10 shopping sprees worth $100 each through a sweepstakes on
www.HelpingOnTheHomeFront.com. This website also offers coupons, game day recipes, interactive games, grilling videos and tailgating tips. Look for displays of Kingsford, Matchlight, Glad, Hidden Valley and KC Masterpiece products, as well as
brochures with coupons for grilling-related products at your local commissary.
You can also go to http://www.commissaries.com/ to find more savings at your nearby commissary, as well as healthy eating tips, recipes and the Virtual Commissary - an online shopping experience that could help you save time and money.
Remember, the Commissary ... It's worth the trip!
---
Clorox partners with "American Red Cross"
Also during June Clorox will partner with the American Red Cross to help prepare you for life's emergencies. As Clorox promotes a healthy lifestyle through products that kill germs, the company will donate 25 cents per unit to the American Red Cross (up to $10,000). Look in your commissary for American Red Cross educational handouts, emergency checklists and coupons for Clorox products. The commissary also wants to remind you to check. "What's in your closet" to see if you need emergency supplies for whatever emergency life may throw at you.
---
"PROJECT HEALING WATERS" SALE
From June 4 through August 5, brands such as Del Monte, Angel Soft, Keri, Haagen Dazs and StarKist are sponsoring "Project Healing Waters." This promotion will raise money for an all-volunteer, non-profit organization that helps wounded veterans recover physically and emotionally through fly-tying and fly-fishing skills. Products from these brands will be on sale at reduced prices at your local commissary and a portion of each purchase price will be donated to "Project Healing Waters." Check here to see if your commissary is participating in this promotion with money-saving coupons and displays.
---
HERSHEY'S FISHER HOUSE PROMOTION
During June, the Hershey Company is proud to help support the Fisher House with a $50,000 donation. The Fisher House provides a "Home Away from Home" near military medical centers for families experiencing a personal medical crisis and is one of the premiere quality of life organizations supporting military families. Great prices on Hershey products will be available to help support this event and the program will be featured in all the branches of the armed services and in your commissary.

---
Guard and Reserve On-site Sales
We have embarked on an ambitious campaign to take commissary goods to Guard
and Reserve centers across the United States for regional on-site sales. We are reaching out to authorized shoppers who have earned the commissary benefit, but cannot easily travel to a local store to shop on a regular basis. To learn about newly announced sales, please check our Guard/Reserve On-site Sales page periodically:
http://www.commissaries.com/guard_reserve_sales.cfm .


---
We Serve You
Your commissary, exchanges and military community support services are here to serve you! Your tax-free shopping benefit saves the military family on average more than $3,000 per year on items you need and brands you want. We serve you with low prices and convenient shopping on every military installation around the world... wherever you serve. Visit the "We Serve You" page to learn more about how we can serve you today: http://www.militaryonesource.com/tabid/731/default.aspx .


---
DeCA Videos
Check out DeCA's Video Vault for interesting and educational clips of commissary history, health and wellness with DeCA Dietitian Lt. Col. Karen Hawkins, and commissary-related topics from A to Z:
http://www.commissaries.com/media_center/index.cfm#vault.
[top]