>





For more information about sponsoring opportunities please Email Military Family Network


Disclaimer: eMilitary is in no way affiliated with the Department of Defense (DoD) or any branch of the Armed Services (Army, Navy, Air Force, Marine or Coast Guard) and inclusion on this site does not reflect endorsement by the DoD, any local government or their agencies.

WE LOVE OUR MARINES. SACIFICE OR SACRIFICES? YOU DECIDE!
What do Marine Corps families have in common? WE LOVE OUR MARINES!
They are men and women of valor, unsung heroes who engage in daily heroic acts. The love of country, discipline, dedication and professionalism, the rigorous and ongoing training, the relentless work they do, the extreme commitment to others set them apart, and they are rightfully referred to as, "the few, the proud, and the brave". These men and women, High School and College graduates, pursue a military career and are true professionals and work in many different fields from intelligence to logistics, to communication, to avionics. Their drive and their ability to strive to be the best, in their fields, are a few of many essential characteristics of this amazing branch.
When I married my handsome southern gentleman, in a uniform, I was unaware of all the challenges awaiting me, a northeastern high school math teacher, who gave up her position, her family, and her friends, to follow her heart. I realized all too quickly that simple things in life, taken for granted, are not simple in the military world. People talk about the sacrifice of having a spouse deploy, not realizing all the other sacrifices we make. We become isolated from family and friends. We lose the image of whom we were before we married. We try to cope with multiple things coming at us, constantly, as we try to adjust/adapt to our new lives. We struggle to retain our former image or struggle to create a new one, a new image that now has to include an unfamiliar world, a world much larger and more complex and filled with more protocol and red tape and formalities.
We married in March of 2006 and, because of the unavailability of base housing, we lived in hotels for two and a half months. Everything we owned went into storage, and our married life started on a chaotic note. Our primary focus was to secure hotels and motels that were booked months ahead of time, by other marine families, in the same situation. We moved often trying to schedule vacancies and spending one or several days in the dozen hotels in Camp LeJeune and the surrounding areas. All our savings were gone when we finally moved to base housing, in June. My husband was deployed one week later.
Alone and fearful of my husband's new status, I looked for support and found it in a small forum, of five, for wives of deployed spouses. It was during this time, that I met my very best friend, who had been through the same ordeals and was more than willing to 'show me the ropes'. I was able, with this support, to create skills to cope with some of the things that had to do with my new world.
Wanting to give back and seeing the possibilities of a forum for all Marine spouses, and families, I created a new forum. The primary goal was to provide an "outlet", because we desperately needed someone to listen to us. We also shared advice, wisdom, and experiences. We discussed local, national, and international news, T.V. programs, books, events, celebrations, … We got updates from one of our members, our resident personal trainer on health and fitness. We discussed the frustration of moving from state to state/country, and all the financial and time challenges that this entails, especially for different state standards/requirements for various certifications. We also discussed the high unemployment rate of military spouses, the financial concerns and worries, adjustable rate mortgages and foreclosures, pay day loans with very high interest rates, increased use of credit cards in order to make ends meet, being alone with new babies, how to cope with wounded and returning warriors, health care, education, regulations, protocols, rights, availability of services etc.
Our forum now has over 215 members, as it continues to provide support, encouragement, and "voices" to many who may feel unsupported, anxious, and frustrated. I am proud to say that our forum provides a constant in our otherwise unstable lives, a bedrock, no matter what part of the world we end up, temporarily, living in. But, despite all this, I've got to repeat, WE LOVE OUR MARINES. Sacrifice or sacrifices? You decide!
Join the forum USMC Kind of Love: A Support Group for Spouses, Families and Friends
http://usmcsupport.forumotion.com/
---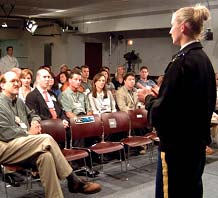 In a January 2002 survey results of the Army's Well Being initiative were published. The U.S. Army Community and Family Support Center (CFSC), in conjunction with the U.S. Army Research Institute for the Behavioral and Social Sciences (ARI), has conducted Surveys of Army Families (SAFs) every 4 years or so to examine areas important to Army families. The most recent survey (SAF IV) was conducted in Spring 2001. A previous survey (SAF III) was conducted in 1995. This survey is one way to assess the effectiveness of the Army's Well-being Initiative.
The results, summarized in a report, Family Readiness Support and Adjustment Among Army Civilian Spouses, by Dennis K. Orthner, Ph.D. at The University of North Carolina at Chapel Hill suggest the following:
About one-third of spouses are aware of FRG and AFTB programs at their installations.
Participation rates in Army FRGs have not changed since 1995.
Fewer than half of participants in AFTB and FRGs rate their programs as helpful or beneficial.
Adjustments to the Army are higher among participants of these programs but personal and family adjustments are less likely to benefit.
AFTB involvement is linked to improved connections to Army agencies and knowledge of the Army. FRG involvement is linked to beliefs that Army leaders care for families.
Source: http://www.armymwr.com/corporate/docs/planning/SAFIVAFTB-FRG.pdf
EMILITARY IS DEDICATED TO HELPING MAKE THESE VALUABLE PROGRAMS WORK AND REACH MORE FAMILIES. OUR SITE IS DESIGNED TO INCREASE AWARENESS AND PARTICIPATION IN THESE PROGRAMS.